NanoPi NEO2 also known as NanoPi NEO2LTS from FriendlyELEC is a small SBC powered by Allwinner H5 SoC with an ARM Mali-450MP GPU. It is intended or server/headless applications with Ethernet & USB ports, as well as I/O headers.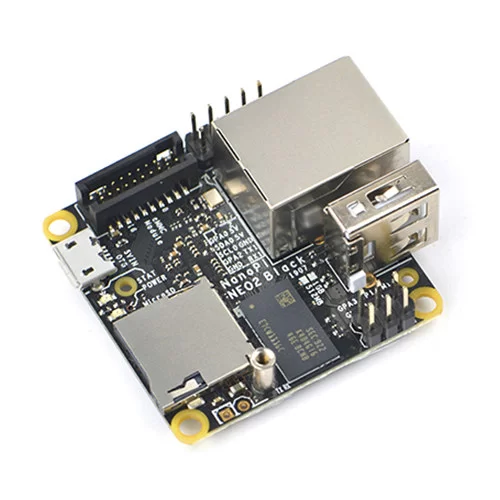 FriendlyELEC launched yet another variant called NanoPi NEO2 Black with the same form factor and Allwinenr H5 64-bit Arm SoC. Only upgrading the eMMC flash module and supporting up to 1GB RAM. There are also small alterations to the I/O headers, and featuring a black PCB instead of the blue PCB found in NEO2-LTS.
Headless applications mean the system runs without a graphical user interface (GUI). Most frequently headless applications are command-line applications or applications that are interfaced with a programming language. Especially in the professional IT world, command-line user interfaces are also common – mostly, because they can be used on servers and local PCs with a screen alike, and they are much easier to automate than GUIs.
NanoPi NEO2 Black SBC specifications:-
SoC – Allwinner H5 quad-core Cortex A53 processor with an ARM Mali-450MP GPU
Memory – 1GB DDR3
Storage – MicroSD card slot, eMMC flash module connector
Connectivity – Gigabit Ethernet RTL8211E-VB-CG
USB – 1x USB 2.0 host port, 1x micro USB OTG port, 1x USB via headers
Expansion headers –

10-pin header with I2C, UART, GPIOs, and power signals (5V in/out + GND)
6-pin header with 1x USB, Line Out (stereo), 1x GPIO

Power Supply – 5V via micro USB port or VDD pin on headers.
Dimensions – 40 x 40 mm
Weight – 16 grams
Misc – Power and system LEDs
The new NanoPi NEO2 Black is compatible with Ubuntu 18.04 (FriendlyCore) and OpenWrt (FriendlyWrt). Armbian is also supported by this board.
Read more: ALLWINNER H5 POWERED NANOPI NEO2 BLACK SBC FOCUSES ON HEADLESS APPLICATIONS