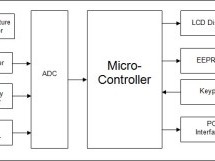 Description: This project is a fine combination of analog and digital electronics. This project is designed so as to fulfill the requirements of the industry applications, home applications. The project consists of parameters monitoring, parameter storage. PC interface is one of the main features of the project in which various data like value of parameters, date and time are sent to the PC using a hyper te ...
Read more

›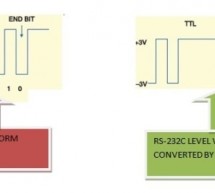 Here is a simple project on How to transmit serial data to pc using built in usart(universal Syncronous-Asyncronous receiver transmitter)of PIC 16f877 microcontroller. The data Transmitted by PIC microcontroller is received by computer through its (Serial)DB-9 Port and is displayed on Hyperterminal window. Since microcontrollers works on TTL  wave form and standard PC(Personal Computers) works on RS-232 wav ...
Read more

›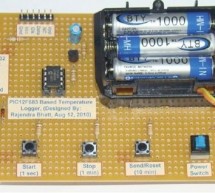 Introduction A data logger is a device that records measurements over time. The measurements could be any physical variable like temperature, pressure, voltage, humidity, etc. This project describes how to build a mini logger that records surrounding temperature values. It has following features: - Uses just one 8?pin chip, so very compact size circuit. - Temperature range: 0 to +125°C. - Can store up to 25 ...
Read more

›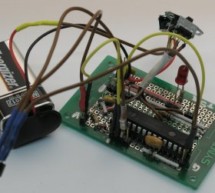 This project has only a few modifications from the "Single Chip, Four Channel Datalogger" article by Dan Gravatt in the 2008 January Issue of Nuts&Volts (page 42), so I won't go into much detail. Below is the schematic.  The changes from Dan's datalogger are that I used the PIC16F886, which is pin-compatible with the PIC 16F876.  I also used the PIC's hardware serial I/O channels (pins 17 and 18) and I ...
Read more

›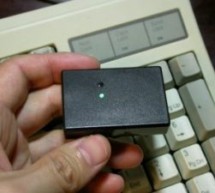 I have built a GPS Logger and it works very well to trace the drove route for two years. By the way, the navigation solution computed by GPS receiver itself has an excellent accuracy without DGPS because an intentional offset added by US goverment has been stopped several years ago. The position error seems to be some meters under clear sky. It is a suffcient accuracy to trace the movement of walk. However ...
Read more

›
Lasers have been one of the essential technologies used in industries. It is realized that light outperforms radio in terms of speed and density. It has been used for communications whether in scanning barcodes, reading CD's and DVD's. This design is a simple data transmitter that uses a DIP switch to support the transmission of data over a transmission medium. This switch withstands extreme shock, vibratio ...
Read more

›
It is a very simple data logger project based on PIC12F683 microcontroller. The microcontroller reads temperature values from a temperature sensor on a regular interval basis and stores them into its internal EEPROM memory. The recorded temperatures can be later transferred to a PC through serial interface. I originally published this project on electronics-lab.com last summer. I thought this could be a ver ...
Read more

›