Munich, January 9, 2018 — SimScale is announcing a free webinar on 24th of January to teach electronics engineers how conjugate heat transfer simulation in the cloud can help better investigate the thermal response of electronic packaging.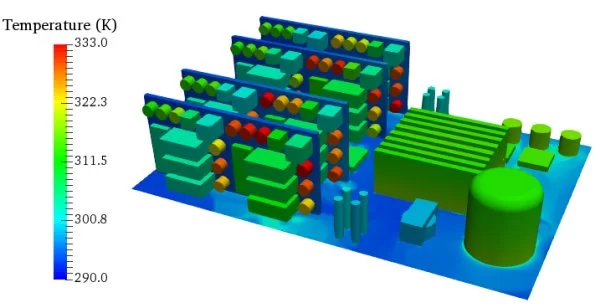 According to the Electrical and Electronic Manufacturing Market Briefing 2017 report from The Business Research Company (TBRC), the global electrical and electronics manufacturing market is expected to reach $3 trillion by 2020.
In such an innovation-driven and competitive industry, engineers deal with increasingly stringent thermal requirements due to the rapid increase in high-power density electronics. Thermal integrity is one of the most important considerations for electronics packaging or enclosures that affect the product lifecycle. The thermal impact on the electronic packaging is a key factor in material selection, cooling and form-related decisions that eventually determine the weight, size, and cost of the final design. It is vital for designers to determine the heat signatures of their system.
This can be done with the help of engineering simulation or computer aided engineering, saving weeks of design time and thousands of dollars in costs. Simulation, nevertheless, has been until recently expensive to use itself, and this a reason many engineers preferred to rely on hand calculations rather than invest over $40k in hardware and licenses of on-premises software.
Cloud-based solutions have challenged the status-quo in recent years, however, and SimScale is one of the companies leading the democratization of computer-aided engineering. Based in Germany, the company makes very complex simulations easy and accessible to everyone around the globe.
In a free 30-minute webinar on January 24th, SimScale's CEO David Heiny will explain how conjugate heat transfer simulation with SimScale can help engineers better investigate the thermal response of electronic packaging by using only a web browser. This will allow them to troubleshoot and minimize their recurrent problems of electronics failure risks due to overheating.
Read more: SimScale is Teaching Electronics Engineers How to Test Designs with Cloud-based CFD