Digitally Controlled Bench PSU
Many electronics people will build a bench power supply at one point in their professional or hobby career. I too have made a couple over the years. However, most of the time I used what was available in the shop(s) where I did my work. One type of PSU in particular always fascinated me: a digitally controlled PSU. No potentiometers, but a keyboard where you punch in the numbers and get exactly that.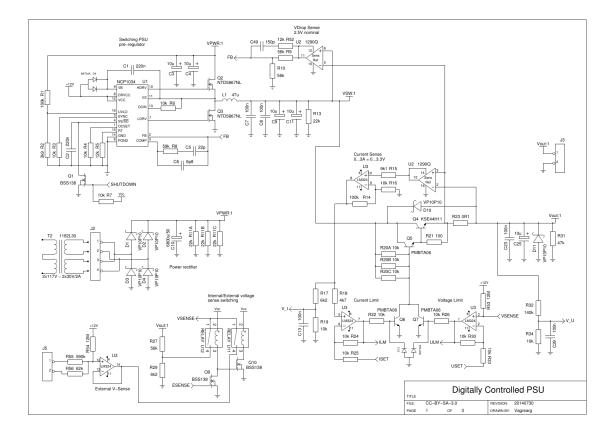 Those digitally controlled PSUs are rather expensive toys. Of course depending on the actual accuracy, but they are not the cheapo China stuff you often see. So I started wondering what it would take to design one on a reasonable budget. 25 years ago, when I saw the first digital PSU, it would have been all too expensive for a hobbyist to come by. Most of the electronics are now affordable and it should be possible to, at least, "take a cursory design look".
Attached is a schematic that should show my thoughts so far.
psudig_sch.pdf

Preliminary schematics
(40.91 KiB) Downloaded 858 times
The design is for 0…30V and 0…3A (90W) controllable at ~1mV and ~0.1mA steps. The actual accuracy is still out for testing and I assume that noise and non-linearity will be a factor to look at when time comes. The basic design allows for 0…42V (max 45V) and (at least) 0…4A, but then all the components should be re-calculated to match such setup. Also, some components need to be voltage matched for a higher input voltage.
For more detail: Digitally Controlled Bench PSU
Project Ratings:
Related posts