Vecow Co., Ltd., a team of global embedded experts, announces the release of the latest Industrial Multi-Touch Computer, MTC-7000 Series. With various LCD sizes from 10.1″ to 21.5" widescreen multi-touch computer, MTC-7000 Series is powered by 8th Gen Intel® Core™ U-series processor (Whiskey Lake) and is ideal for Machine Vision, Telemedicine, Factory Automation, Smart Retail and ITS (Intelligent Transportation System) or any AIoT/Industry 4.0 applications.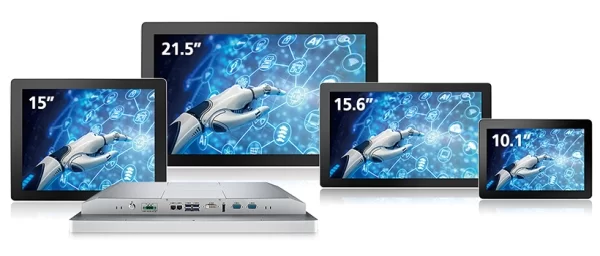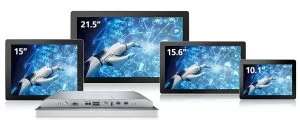 Vecow MTC-7000 Series features 8th Gen Intel® Core™ i7/i5/i3 processor that delivers a 40% improvement in CPU performance and enables more powerful system performance than 7th Gen Intel® Kaby Lake processor. Vecow MTC-7000 Series provides projected capacitive touch technology with 10-point multi-touch function for highly responsive sensing, zoom in/zoom out function for improving the ease and efficiency of data and information processing and user-preference settings. It also meets the durability requirement by supporting up to 7H hardness anti-scratch touch surface to elevate longevity on the touch screen.
Vecow MTC-7000 Series supports a various set of I/O configurations, including 4 10G USB, 2 GigE LAN, 2 COM, 1 2.5" easy-access SSD/HDD kit, and a full-size mSATA, providing a higher level of customization. For example, it features 2 Mini PCIe slots that allow the user to install the 3rd party wireless modules such as WiFi/4G/3G/LTE/GPRS/UMTS for seamless communications. With 9V to 48V DC-in and 500V Surge Protection, Vecow MTC-7000 Series not only prevents overvoltage but keeps the system stable.
Vecow MTC-7000 Series comes with a widescreen design that provides a 40% increased viewing area compared to traditional 4:3 display, delivering optimized visualization of information," said Alan Chou, Senior Product Manager, Embedded System & Platform Division at Vecow. "Vecow MTC-7000 Series is powered by 8th Gen Intel® Whiskey Lake platform with outstanding system and graphics performance. Besides, the fanless design and the support for operating temperature of -5°C to 55°C make it the perfect solution for AOI as a control panel, machine vision applications or Panel PCs for retail Kiosk and recognition applications"
"We are glad to introduce this new series All-in-One Panel PCs to our customers," said Joseph Huang, Sales Manager, Sales & Marketing Division at Vecow. "It features thin and light with an elegant ID design and supports Panel Mount and VESA mount kit that can be easily deployed in diverse industrial applications and is a good fit Panel PCs for AIoT applications.
Read more: VECOW LAUNCHES MTC-7000 SERIES ALL-IN-ONE MULTI-TOUCH COMPUTER