USB FOR INTEL'S MX10 AND SPIDERSOM MODULES
MX10 and SpiderSoM modules are outfitted with a USB device interface, applied with PIC16F1454 microcontroller (MCU). On the SoM side the MCU is connected to three interfaces: serial (if the other side is applied inside the FPGA), an I2C bus (connected to the module PMIC, charge controller, RTC and FPGA), and FPGA JTAG programming interface. The 70mm x 35mm modules support Linux Operating System, but currently, Ubuntu16.04LTS is marked as a reference base.
The modules feature a programmable clock generator and PLL, with optional external reference input. Available also are 178 FPGA GPIO pins, including 13 LVDS transmitters and 54 receivers. optional 128/256/512MByte DDR3 DRAM (for 10M 16/25/40/50 FPGAs) is also available. Programmable high-efficient PMIC, FPGA IO voltages are configurable for user convenience. The modules support a wide range of devices: from 10M04DC to 10M50DA. Other features include an optional Li-Ion/Li-Pol charger, RTC with battery backup, optional 4 GByte e.MMC, optional 4 MByte SPI NOR, optional 8 MiB SDRAM, and a MAX 10 FPGA in F256 package. The SpiderSoM is a programmable, non-volatile solution based on Intel®️ MAX®️10 FPGA, which allows it to produce full-featured FPGA capabilities.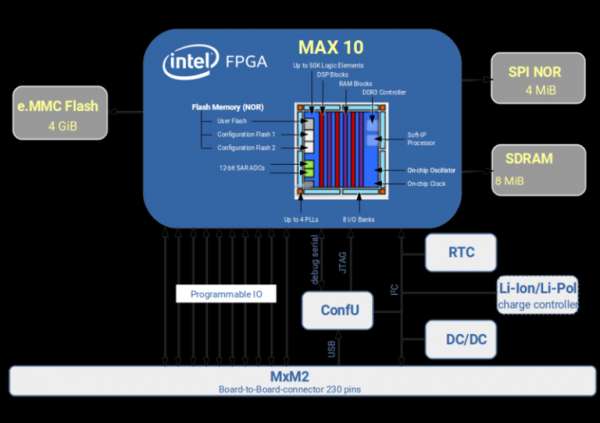 Project Ratings:
Related posts