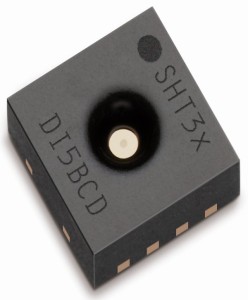 The new digital SHT3x humidity sensor series takes sensor technology to a new level. As the successor of the SHT2x series it is determined to set the next industry standard in humidity sensing. The SHT3x humidity sensor series consists of a low-cost version with the SHT30 humidity sensor, a standard version with the SHT31 humidity sensor, and a high-end version with the SHT35 humidity sensor. The SHT3x humidity sensor series combines multiple functions and various interfaces (I2C, analog voltage output) with a applications-friendly, very wide operating voltage range (2.4 to 5.5 V). The SHT3x humidity sensor is available in both large and small volumes.
The SHT3x builds on a completely new and optimized CMOSens® chip, which allows for increased reliability and improved accuracy specifications. The SHT3x offers a range of new features, such as enhanced signal processing, two distinctive and user-selectable I2C addresses, an alert mode with programmable humidity and temperature limits, and communication speeds of up to 1 MHz.
The DFN package has a footprint of 2.5 × 2.5 mm2 with a height of 0.9 mm. This allows for integration of the SHT3x into a great variety of applications. Additionally, the wide supply voltage range of 2.4 to 5.5 V and variety of available interfaces guarantee compatibility with diverse integration requirements. All in all, the SHT3x humidity sensor series incorporates 15 years of knowledge from Sensirion, the leader in the humidity sensor industry.
The SHT3x protective cover is an optional polyimide foil directly attached to the top surface of the sensor. It covers the SHT3x's complete sensing area and thus acts as a reliable shield against pollution during SMT assembly of the sensor and subsequent processes, such as conformal coating or potting. The protective cover is designed to withstand multiple reflow soldering cycles. To enable correct sensor operation, it must be removed after assembly.
A flap on the cover extends over the outer dimensions of the sensor package on one side and is designed to allow the cover to be peeled off easily with tweezers. After peeling off, the sensor will operate as specified in the datasheet. All typical conformal coating procedures, such as brushing, spraying or potting, can be used as long as the protective cover is attached. The cover will effectively protect the sensor opening from direct exposure to these coatings and other possible pollutants during the production process. Please find more details in the relevant datasheet.
For more detail: Tiny Precision Digital Humidity sensor