Silicon Labs has introduced Blue Gecko which combines its EFM32 Gecko MCU technology with a Bluetooth Smart transceiver on one die combined with the Bluegiga Bluetooth Smart software stack which can transmit +10 dBm or higher output power with its integrated power amplifier and balun.
Blue Gecko SoCs are based on the ARM Cortex-M3 and M4 cores and offer 128 to 256kbyte flash sizes and 16 to 32kbyte RAM sizes.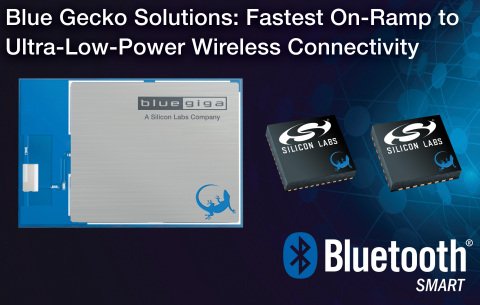 Embedded World: Your Electronics Weekly guide »
Bluegiga modules based on Blue Gecko SoCs provide a pre-certified, plug-and-play RF design.
Bluegiga Bluetooth Smart modules incorporate all features of Blue Gecko SoCs and are certified for use in all key markets including North America, Europe, Japan and South Korea.
Bluegiga modules include the Bluegiga Bluetooth Smart software stack and profile toolkit and come with 256kbyte flash and 32kbyte RAM.
Bluegiga Bluetooth Smart modules enable wireless system designs to be powered from a standard 3 V coin cell battery or two AAA batteries.
To simplify wireless development, Silicon Labs offers the complete Bluegiga Bluetooth Smart software stack for Blue Gecko modules and wireless SoCs. The stack implements the Bluetooth Smart protocol layers including the Attribute Protocol (ATT), the Generic Attribute Profile (GATT), the Generic Access Protocol (GAP), a security manager and connection management.
The Blue Gecko portfolio includes a wireless SDK for developing Bluetooth Smart applications using either a host or fully standalone applications through the easy-to-use Bluegiga BGScript scripting language.
BGScript enables developers to create applications quickly without using external MCUs to run the application logic, enabling them to reduce cost, simplify their designs and get to market faster.
For more detail: Silicon Labs launches Blue Gecko