Now the PCB kit I used described how I could draw my circuit layouts directly unto the copper clad board using an special pen with etch-resistant ink, however lacking the dexterity of an artist I chose to get myself some CAD software for generating PCB layouts. After a bit of research I decided to go with EAGLE from CadSoft which has free lite edition, mostly because it seemed popular. I have to say that as a novice user of any PCB layout editor, my first impression was that I found the user interface very unintuitive, but thanks to the many user tutorials on YouTube I was able to get enough of a grasp of the tool to bend it to do my will, although admits occasional outbursts of frustration.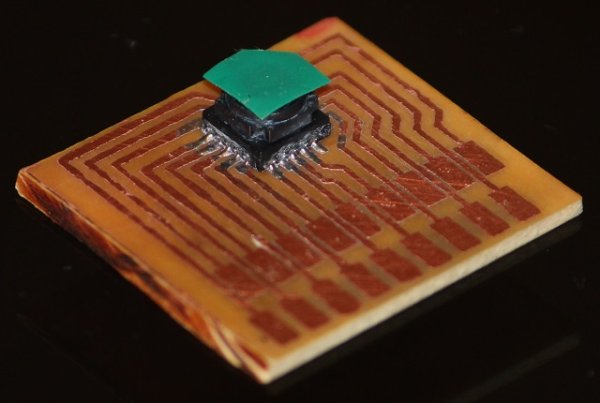 I was able to determine than the CMOS camera's package was a QFN-20 but a search online did not yield any EAGLE libraries for this device, so the challenge for me lay in creating one which matched the CMOS camera's footprint. Turns out this is not too difficult, especially if you're in possession of the annotated device drawings, then it just a matter of reproducing the footprint in CAD with matching dimensions. I found that just printing the package layout on a plain sheet of paper and superimposing the actual device over it was a great way of verifying the measurements. The library is available here: tcm8230md.zip for download for whoever might be interested.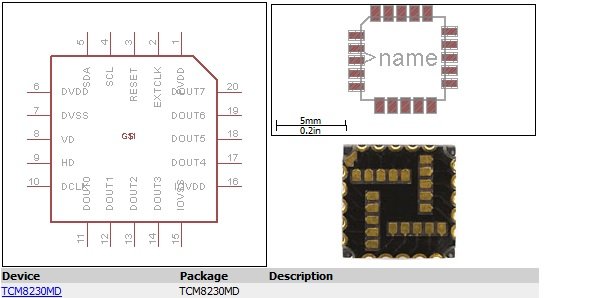 Here's what the final mounted device looks like. Solder paste actually makes working with SMD easier than I thought it would be. I failed to mention it before, but I had to check for any unexpected short circuits with a multi-meter before and after soldering the device to the breakout board. These kinds of defects could be caused by poor PCB construction or just excess solder.
Now it's just a matter of setting up the PIC microcontroller and wiring this baby up.
For more detail: PCB layouts using CAD