Our circuit commercially available 4-color carbon resistor color code itself accounts. As our circuit structure is quite simple . PIC16F88 as a material for Nokia 3310 keypad and LCD 4 × 3 consists of a few simple elements . Application to the study, the 12 keys on the keypad each respectively black, brown, red, orange, yellow, green, blue, purple, gray, WHITE, GOLD, SILVER color is expressed with .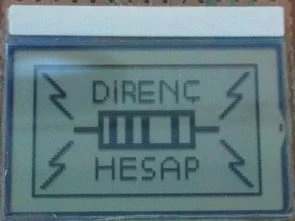 Entered with the keypad and the screen colors as 3, 4, 5 and 6 are displayed in rows . Last color by entering the resistance value is calculated automatically . The calculated resistance value is printed on the 1st line of the screen . If the tolerance of the resistor value is displayed on line 2 . Circuit and the color codes to the extent allowed up to 0.1 ohms and 99 giga ohms of resistance value can be calculated.
In practice, the wrong color in the wrong rows are not allowed to enter the code . 1.Color black , gold, silver , excluding any color can be entered. 2 colors gold, silver , excluding any color can be entered. 3 colors , each color can be entered. 4 colors are gold or silver in color only tolerance can be entered.
RESISTOR CODE CALCULATOR CIRCUIT SCHEMATIC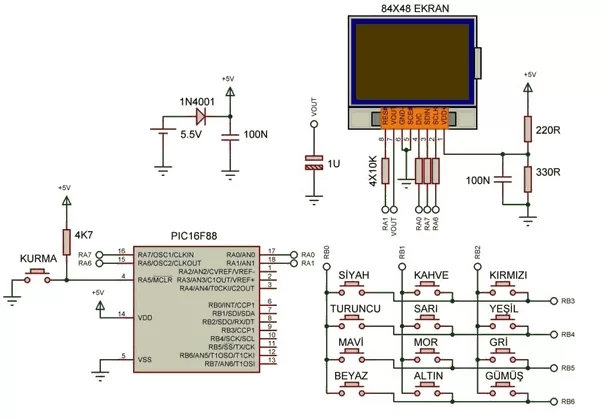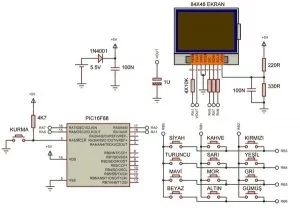 PIC16F88 RESISTOR CODE CALCULATOR CIRCUIT TEST

Source: NOKIA3310 LCD PIC16F88 RESISTOR COLOR CODE CALCULATOR CIRCUIT