The open hardware innovation platform Seeedstudio produces the MDBT42Q, a Bluetooth Low Energy (BLE) module. It is a BT 4.0, BT 4.1 and BT 4.2 module designed based on Nordic nRF52832 SoC, a powerful, highly flexible ultra-low power multiprotocol SoC ideally suited for Bluetooth low energy, ANT and 2.4GHz ultra low-power wireless applications.
MDBT42Q features a dual transmission mode of BLE and 2.4 GHz RF with over 80 meters working distance in open space. It is a 16 x 10 x 2.2 mm board which contains GPIO, SPI, UART, I2C, I2S, PWM and ADC interfaces for connecting peripherals and sensors.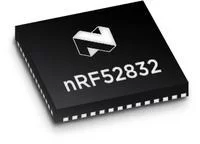 The nRF52832 SoC is built around a 32-bit ARM® Cortex™-M4F CPU with 512kB and 64kB RAM. The embedded 2.4GHz transceiver supports Bluetooth low energy, ANT and proprietary 2.4 GHz protocol stack. It is on air compatible with the nRF51 Series, nRF24L and nRF24AP Series products from Nordic Semiconductor.
MDBT42Q Specifications:
Multi-protocol 2.4GHz radio
32-bit ARM Cortex – M4F processor
512KB flash programmed memory and 64KB RAM
Software stacks available as downloads
Application development independent from protocol stack
On-air compatible with nRF51, nRF24AP and nRF24L series
Programmable output power from +4dBm to -20dBm
RAM mapped FIFOs using EasyDMA
Dynamic on-air payload length up to 256 bytes
Flexible and configurable 32 pin GPIO
Simple ON / OFF global power mode
Full set of digital interface all with Easy DMA including:
3 x Hardware SPI master ; 3 x Hardware SPI slave
2 x two-wire master ; 2 x two-wire slave
1 x UART (CTS / RTS)
PDM for digital microphone
I2S for audio
12-bit / 200KSPS ADC
128-bit AES ECB / CCM / AAR co-processor
Lowe cost external crystal 32MHz ± 40ppm for Bluetooth ; ± 50ppm for ANT Plus
Lowe power 32MHz crystal and RC oscillators
Wide supply voltage range 1.7V to 3.6V
On-chip DC/DC buck converter
Individual power management for all peripherals
Timer counter
3 x 24-bit RTC
NFC-A tag interface for OOB pairing
RoHS and REACH compliant
This BLE module can be used in a wide range of applications, such as Internet of Things (IoT), Personal Area Networks, Interactive entertainment devices, Beacons, A4WP wireless chargers and devices, Remote control toys, and computer peripherals and I/O devices.
Full specifications, datasheet, and product documents are available at seeedstudio store, it can be backordered for only $10.
Source: MDBT42Q, NRF52832-BASED BLE MODULE