Since the first wheels of mass production started turning during the Industrial Revolution, fine craftsmen and DIYers have found it more difficult to sustain their crafts. Until recently, those handmade-focused entrepreneurs who wanted or needed access to the latest technology would have to assemble a large amount of capital for items such as 3D printers or CNC machines.  Those who couldn't afford the high overhead were left to envy those wares and hope for a price decrease.
Today, instead of taking out a second mortgage to fund a workshop, artists, tinkerers, engineers, and gadget nerds across the country are pooling their financial and creative resources to establish the next wave of manufacturing.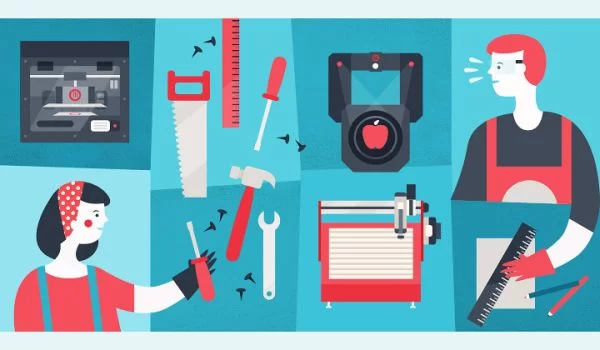 "Makerspaces" are the 21st-century solution to the wastes and excesses of the old industrial model of production. They lower the entry fee into the competitive market, and serve as community hubs and hands-on education centers.
Makerspaces began to spread throughout Europe and North America in the early 2000s. Also referred to as FabLabs or Hackerspaces, they began in the mid-1990s in Germany as collectives of programmers. Some of the first, named c-base and the Chaos Computer Club, inspired U.S. hackers during a Chaos Communication Camp meeting in 2007. Soon after, makers established the first fledgling spaces in New York, Washington, D.C., and San Francisco.
As membership grew, hackers began to purchase more equipment and work on physical objects as well as create code. Some started to use the word "make" instead of "hack" in order to distance themselves from the negative connotation of subverting computer programs, as well as encourage a more creative and community-oriented ethos.
Some now differentiate hackerspaces, which typically focus on computers and programming, from makerspaces. Makerspaces are typically facilities centered on crafting rather than repurposing hardware. According to hackerspaces.org, there are currently 1,762 active spaces across the globe with 350 in development. Of those, MAKE Magazine has cataloged over 100 within the U.S.
Makerspaces have grown in popularity during the last ten years, spawning successful business such as MakerBot Industries and MakerFaires in metro areas to showcase the best of the community's efforts. Sponsored by MAKE magazine, these events in places such as San Mateo (CA), New York, Austin, Washington D.C., Detroit, and Kansas City, draw thousands of makers and spectators. Giant kinetic sculptures sit alongside workshop pavilions and food trucks, while lecturers, tech reviewers, and musical guests discuss the art of turning imagination into reality.  On a smaller scale, independently organized Mini Maker Faires in local communities are also excellent introductions to the maker culture and networking opportunities for established craftspeople.
In June 2014, the White House hosted its first MakerFaire, featuring 100 makers from 25 states in 30 exhibits. President Obama toured the Faire and addressed the makers. The Small Business Administration also announced its $2.5 million Accelerator competition to encourage communities to include startup accelerators and Maker spaces for entrepreneurs in regional entrepreneurship strategies.
For more detail: Makerspaces: A Revolution in Sustainable Production