We all are well aware of the major fire accidents that frequently take place in nuclear power plants, petroleum refineries, gas tanks, chemical factories and other large scale industrial units and result in very serious consequences. Thousands of people have lost their lives due to such hazardous accidents. Therefore, the main objective of this project is to develop a robotic vehicle capable of fighting the fire remotely by using an RF technology, in the event of any major fire accidents in industries.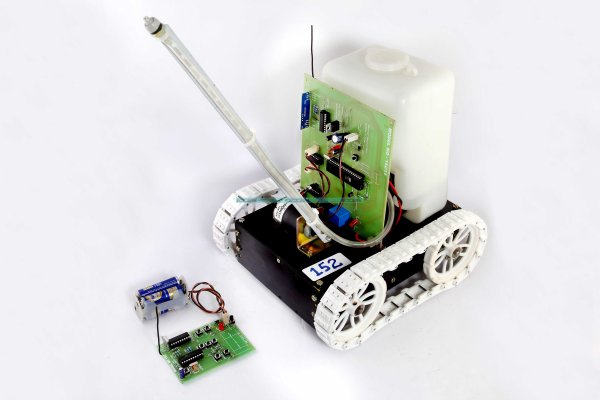 An RF transmitter is connected to the transmitter end with the help of an encoder device. Push buttons are connected to the microcontroller as input switches. Commands are sent by the push buttons to the receiver to control the movement of the robot either in forward, backward, left or right directions.
An RF receiver is connected to the receiver end with help of a decoder device. The two motors are interfaced to the microcontroller through a motor driver IC, which is used to change the directions of the motor. This system works with an 8051 family microcontroller and a battery for power supply.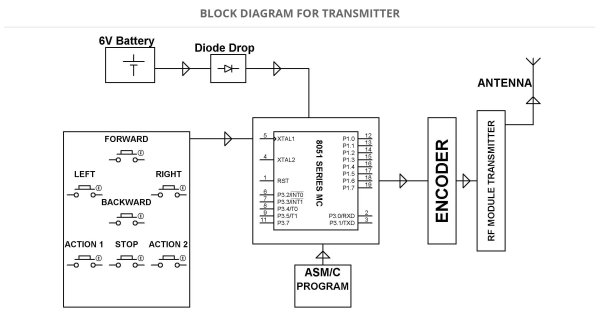 A robotic vehicle is loaded with a water tanker. The pump is remotely controlled by the RF commands sent by the transmitter, and, based on these commands, the receiver controls the directions of water jet to the fire.
The future scope of this project can be implemented by interfacing it with a wireless camera so that a user can see the operation of this remote robot clearly on a screen.
For more detail: Fire Fighting Robotic Vehicle