Are you looking for a cheap Full HD display driver? Then you may have come to the right place! SigmaStar, one of the cheapest camera processors manufacturer on the market, just released the new low-cost module IDO-SOM2D01, built upon their own SSD201 SOC, a Smart HD Display Controller.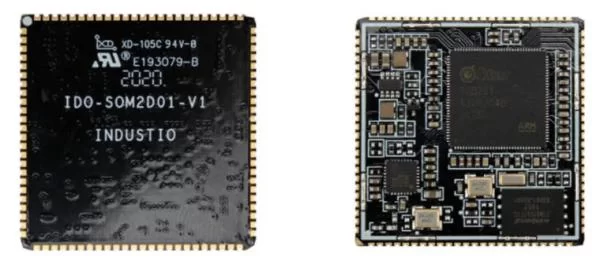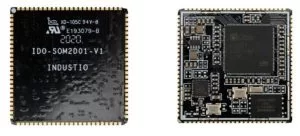 The SSD201 itself is a highly integrated SoC. It is based on a dual-core ARM Cortex-A7 processor, integrates H.264/H.265 video decoder, 2D graphics engine and TTL/MIPI display with adjustable picture quality engine, among with other peripherals that make it useful for smart display applications. The full list of specs are:
ARM Cortex-A7 dual core up to 1.2GHz (32kB I-cache + 32kB D-cache + 256 kB L2-cache, Neon and FPU, MMU for Linux support and DMA engine)
64MB embedded DDR2 and 128 MB flash (with support for 2GB) memories, with support for SD card
H.264/AVC and H.265/HEVC decoders (supports up to Full HD resolution with 60 fps decode)
JPEG decoder (supports JPEG baseline encoding in YUV422 or YUV420 formats, up to Full HD resolution with 15 fps)
Display subsystem with built-in contrast, brightness, sharpness and saturation control, TTL output up to HD 60fps, MIPI TX DSI 4-lane output up to Full HD 60fps and max speed 1.5Gbps
Integrated 2D graphics hardware accelerator
Audio processor supporting 1 micropohone input, two stereo DMIC inputs and one stereo DAC for lineout
NOR/NAND flash, SDIO and USB 2.0 interfaces (two high speed USB 2.0 hosts) and support for 2 ethernet ports
Built-in RTC with ultra low power mode (<3uA) for long battery operation
Dedicated GPIOs for system control, 4x PWM outputs, 3x generic UARTs and 1x fast UART with flow control, 1x SPI, 2x I2C, 1x IR input, 3-channel SAR ADC
Support for secure boot and AES/DES/3DES cypher engines, to help encrypt compressed audio/video files for privacy
When you take a look at the features, it takes a while to realize the size of this module, coming at an area of 2.95cm x 2.95cm and weighing only 8 grams! But how can you get your hands on one? Well, I would say that's a tad bit complicated since the company is Chinese and so is the majority of the information you can find online, such as a promising Linux BSP that supposedly boots in one second. But if you are feeling quite adventurous, you can get the module itself for around $10 and a development board with the IDO-SOM2D01 is also there for around $200.
Read more: $10 SYSTEM-ON-MODULE DRIVES FULL HD SMART DISPLAYS VIA SIGMASTAR SSD201 SOC