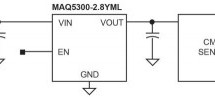 The MAQ5300 is an automotive-qualified, ultra-small, ultra low dropout CMOS regulator (ULDO) that is ideal for today's most demanding automotive applications including infotainment, camera module, image sensors, and anywhere PCB space is limited. It offers extremely low dropout voltage, very low output noise and can operate from a 2.3V to 5.5V input while delivering up to 300mA. The MAQ5300 offers 2% ...
Read more

›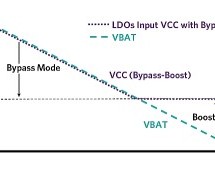 A popular power source for portable devices is a single lithium-ion cell with 4.2V at full charge and 2.8V at end of discharge. However, some functions within portable electronics, such as a SIM card and DSP, require 2.8V and 3.3V. These are normally provided by low noise LDOs. The LDOs inputs (VCC) must be at a slightly higher voltage than the highest LDO output. Hence, VCC ends up right in the middle of t ...
Read more

›

1.2V to 35V Adjustable DC-DC Converter project has been design around TI's  LM2576-ADJ IC. Inputs supply 40 VDC.  LM2576-ADJ is a monolithic integrated circuit that provides all the active functions for step down switching regulator, capable of driving 3A load with excellent line and load regulation.this board has minimum number of components. Features  Output 1.2 to 35 VDC @ 3 A regulated low ripple DC vol ...
Read more

›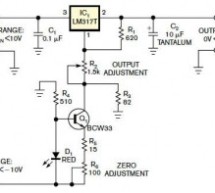 Most engineers know that they can use an inexpensive, three-terminal adjustable regulator, such as Fairchild Semiconductor's LM317, as an adjustable regulator to only some necessary value of voltage, such as 36 or 3V. This value cannot be less than 1.25V without employing other approaches, however. The devices' inner reference voltage is 1.25V, and their output voltage accordingly cannot be less than this v ...
Read more

›