Researchers developed a multijunction solar cell on a GaSb substrate that can efficiently convert the long-wavelength photons typically lost in a multijunction solar cell into electricity. This prototype cell has an efficiency of 44.5% which is higher than conventional solar cells.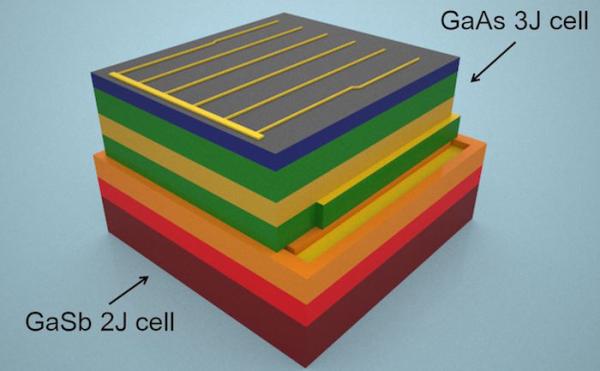 A GaAs-based cell is stacked mechanically with the GaSb-based materials to create a four-terminal, five junction cell with a spectral response range covering the region containing greater than 99% of the available direct-beam power from the Sun reaching the surface of the Earth. By comparison, the most typical solar cell can convert only one fourth of the available energy into electricity.
The working principle of this new solar cell is slightly different than the commonly available one. The cell is assembled in a mini-module that has a lens with a geometric concentration ratio of 744 suns. The lenses to concentrate sunlight onto tiny, microscale solar cells. As the solar cells have a very tiny form factor of  1 mm², solar cells using more complicated materials can be developed cost effectively.
The stacked cell acts like a filter with a particular material in each layer to absorb a specific range of wavelength of sunlight. The stacking procedure uses the transfer-printing technique which enables three dimensional modeling of these super-tiny devices with a high degree of precision.
Around 99 percent of the power contained in direct sunlight reaching the surface of Earth falls between wavelengths of 250 nm and 2500 nm. The entire range is not accessible by conventional solar panels as they are made from abundant, cheaper materials, such as silicon. Matthew Lumb, the lead author of the study and a research scientist at the GW School of Engineering and Applied Science, said,
Our new device is able to unlock the energy stored in the long-wavelength photons, which are lost in conventional solar cells, and therefore provides a pathway to realizing the ultimate multi-junction solar cell.
Read More: NEXT GENERATION SOLAR CELL THAT CAN CAPTURE NEARLY ALL ENERGY OF SOLAR SPECTRUM