When I was 12, I built my first speaker out of a shoebox. It sounded terrible but I loved the process of building my own stuff. Flash forward to 2010 and my career as a location sound mixer. I needed a portable, yet very rugged battery powered speaker and I had no choice but to make it myself out of one of my equipment cases and found parts. It was a hit with the crew and suddenly I had requests to build more.
The DemerBox was created out of need because there wasn't anything like it on the market. Its taken years of prototyping and real world testing to create a boombox that sounds amazing, can travel anywhere with you and will last a lifetime. And you can put stuff inside it which makes it even better!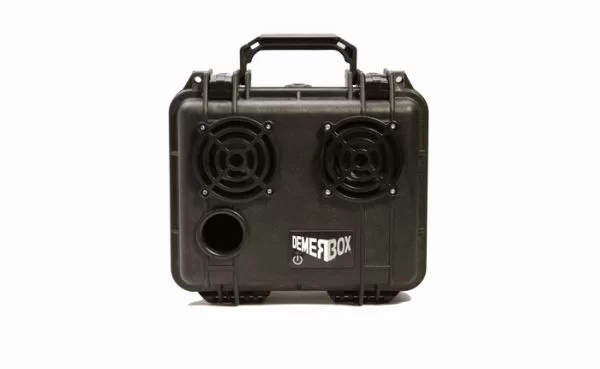 By supporting our Kickstarter campaign you'll be helping us to pay for the very expensive process of injection molding the parts we've spent years prototyping and perfecting. You will also help us pay for manufacturing our printed circuit board. The PCB is the heart and brains of the DemerBox and after hundreds of hours researching, testing, building prototypes and pre production PCB's, we finally have it just right.
DemerBox is a rugged, great sounding, water-resistant boombox that you can put things inside.
The Bang is our single speaker model. Its about the size of a lunchbox but don't let its svelte size fool you. The Bang gets loud, has tight punchy bass, and pleasing mids and highs.
The Big Bang is our two speaker model. Its about the size of a soccer ball. The Big Bang gets louder than The Bang, and because it has two speakers, you get stereo separation and a little more detail in the music.
Why choose a DemerBox?
SOUND QUALITY
Our full-range speakers create a purity of sound that multiple speaker systems can rarely achieve.  DemerBoxes are acoustically tuned for incredible fidelity and punchy bass.
We left a DemerBox outside in a snowstorm for 24 hours to demonstrate its battery life and cold weather capability.  The audio you hear is from the DemerBox you see in the video – and you can get up to 40 hours of play time at normal volume.
For more detail: DEMERBOX – Rugged Wireless Boomboxes