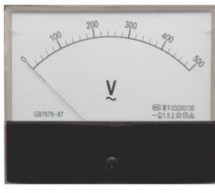 Voltmeter and Ammeter can be easily made using PIC Microcontroller having ADC (Analog to Digital Converter). I am using PIC16F877A and the result is displayed on an LCD Display. PIC16F877A is enough if you do this project only for testing purposes. I suggest to use PIC with low pin numbers and multiplexed 7 segment display if you wish to use this as your measuring instrument. If you don't know the basis of ...
Read more

›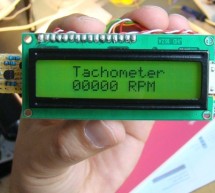 Tachometer is a device that measures the rotational speed of any shaft or disc. The unit of the measurement is usually revolutions per minute or RPM. The traditional method of measuring RPM of a rotating shaft was based on velocity feedback concept where a dc generator is hooked to the rotating shaft so that the voltage induced across the generator's terminals is proportional to the speed of the shaft. Toda ...
Read more

›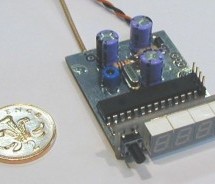 Circuit schematic PCB HEX code, V1.11 (operates with 4,000 MHz quartz) Hex code, V1.12 (operates with 4,1943 MHz quartz) PIC config bits Photo - Top view Photo - Bottom view Photo - Latest PCB version with TO-92 style 78L05 housing - Top view (132 kbyte) Photo - Latest PCB version with TO-92 style 78L05 housing - Bottom view (138 kbyte) This is a successor of the PIC16C71 4-digit LED f-counter & ...
Read more

›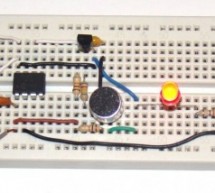 A clap switch is a fun project for beginners. It switches on and off electrical appliances with a sound of clapping hands. Today we will discuss about making a simple clap switch that operates when it detects two clapping sounds in a row. It uses an electret microphone as a transducer for converting a clapping sound into an electrical signal. The microcphone output is amplified by a transistor and is then s ...
Read more

›
This is a very simple and accurate power guard circuit. This circuit is useful to guard the electronic or electrical devices from mains transients and spikes. Very high spikes can develop at power on due to sparking in the switch and more serious effects occur when power resumes after a power failure due to high magnetic field in the distribution transformer. This will damage your device permanently. To avo ...
Read more

›
I found several different magnetometer designs on Internet, but I tend to be very picky. None of those was what I needed - something that is sensitive enough to record the small magnetic field variations where I live (San Jose, California), robust enough to work for long periods of time without constant maintenance, and relatively easy to construct. Since the only place where I could permanently install the ...
Read more

›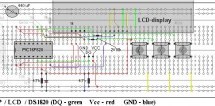 This simple project uses a Dallas DS1820 one wire temperature sensor and a pic 16f628 microprocessor. A simple temperature regulator where a LED symbolizes the Fan. Data derived from the DS18s20 is a 9bit centigrade temperature measurement. As mentioned the temperature sensor communicates over a one Wire bus that requires only one data line and ground for communication with a central microprocessor. The DS1 ...
Read more

›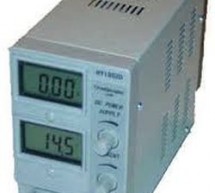 This post would provide a working example of how to make a simple Current Meter (DCM) using 16bit PIC microcontroller and a series shunt resistance. We have very precise ammeter current measurement with a 10bit ADC and with a tolerance of ±10mA. You may download code and Proteus Simulation from the download section at the bottom of this post. I am using MPLAB X IDE, C30 Compiler and Proteus Simulation on v8 ...
Read more

›
In this article, I will discuss how to design digital ac watt meter using pic microcontroller. Lets start with basic introduction of watt meter. What is Watt meter? Watt meter is electrical device which is used to measure real power in AC circuits and total power in DC circuits. You may have used watt meter in electrical labs. Watt meter most frequently used in electrical labs for performing various lab tas ...
Read more

›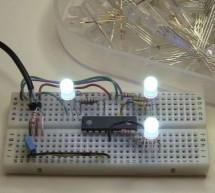 Quick & Easy RGB-LED Tester Have you ever built a project with a lot of LEDs, and found out that one of the LEDs was defective? Although it's somewhat rare, there are some defective LEDs when you go through hundreds of them. I found that RGB-LED have high defect rate, most likely due to the fact that each of them has three LEDs (R,G,B) in them. I have had a few situations where one of the RGB LEDs was n ...
Read more

›