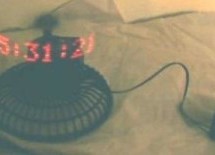 Red digits on this photo appear to float in the air in front of the clock. This illusion is based on inertia of a human eye. If LED-formed digits will periodically and frequently enough flash, they will appear solid and steady. And since the matrix of digits is formed by a mechanically scanned single line of LEDs, and the fast rotating clock body is not visible, it leaves digits "suspended" in the air. The ...
Read more

›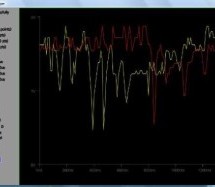 Far and away my most ambitious project to date, this digital oscilloscope can sample up to four channels at a rate up to 100kHz.  And the best part? It only cost me about $40 in components. The user interface is an application running on a PC.  The user selects the configuration settings here.  When the data has been acquired, it is displayed as a graph on this screen. The board uses five PIC 16F688 microco ...
Read more

›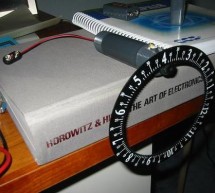 I can't take credit for the design of this one.  I bought the gear as a clock a few years ago.  It was mounted on a frame and had one of those cheap clock units running it.  The gear is designed to be driven by the minute-hand shaft of the clock mechanism. The problem was that it kept breaking.  I think the problem was that the clock mechanism wasn't strong enough to hold the weight of the gear. I bought a ...
Read more

›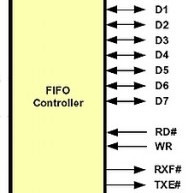 Introduction This is a simple design that interfaces a PIC 16F877 microcontroller to the USB bus using the FTDI FT245 USB FIFO device. It has been designed using a simple single sided PCB with only one surface mount device, the USB chip itself. All schematics, PCB layouts and software are available for download This work is licensed under a Creative Commons Attribution 3.0 Unported License. Update, May 2nd ...
Read more

›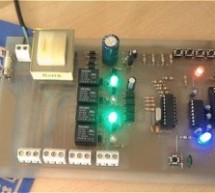 Project Summary Computer Controlled, relay board designed to be either operated manually via switches on the board or nine way Type Connector via PC or laptop. Provision has been made for USB serial adaptor. The Project utilises PIC Micro technology with windows visual interface written C Sharp utilising Dot Net version 4. It can be interfaced to other adapters Keypad adapter (Optional) or RF receiver (Opti ...
Read more

›
ezPIC is low cost serial port programmer for PIC microcontroller and I2C EEPROM. The programmer does not need external power supply and it takes all necessary power and signal from RS232 Serial Port. Features * No external power supply required * High quality 3M ZIF socket for easy insertion and removal of devices * Software upgradeable for future PIC Microcontrollers * Can program most PIC and I2C EEPROM d ...
Read more

›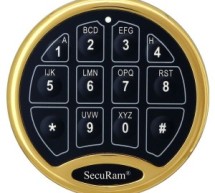 description This is my electronic combination lock to use with an outdoor gate. The functionality is implemented in software. It turns on a relay (usually to open a door) for a few seconds if someone enters the valid code. Alternatively, it works as an ON/OFF switch, which toggles the relay each time the code is entered. This relay can operate a power-to-open type electric strike with a shorting contact or ...
Read more

›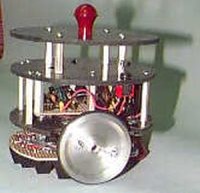 Design Goal: The JavaBot1 is a small line following robot designed to follow a black line drawn on a dry erase board. It is designed to follow very tight curves. The software still has lot's of room for improvement but works well as is. Motive Power: The JavaBot1 uses 2 Cirrus CS-70 servos that have been modified for full rotation and have had their controller boards removed to convert them from servos to g ...
Read more

›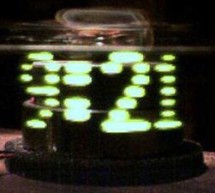 This is the first clock I ever built. I've built a few LED signs, but they get boring because I already know the message. How this clock works: A motor spins the "propeller", and a small microprocessor keeps track of time and changes the pattern on seven LEDs with exact timing to simulate a 7 by 30 array of LEDs. It is an illusion, but it works nicely. If you want to build this clock, you will need a few th ...
Read more

›
Digital thermometers are cool devices as they show temperatures in human readable formats. This digital thermometer project is based on a PIC16F688 microcontroller and a DS1820 temperature sensor, and it displays temperature on a character LCD screen in both Celsius and Fahrenheit scales. I selected PIC16F688 for this project because it is cheap (I bought one for $1.50). DS1820 is a 3-pin digital temperatur ...
Read more

›