Here i am going to explain you a simple Password based circuit Breaker Project using PIC Microcontroller. This project is much similar to my previous one, "Password Based Door Locking System". Circuit breakers are electromechanical devices used in the power system to connect or disconnect the power flow at the generator, substation, or load location. Only authorised persons with correct password can connect ...
Read more

›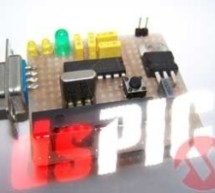 Bernard introduces us to the dsPIC microcontroller. He shows us his Arduino like project board for a dsPIC and gives advice on software development tools. This article was submitted by Bernard Klinc as part of the "Hobby parts for articles" program. Bernard received a graphic LCD module for this great article. You may remember Bernard from his previous Accelerometer Based Mouse article and video. This thing ...
Read more

›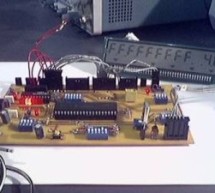 The Development Board v. 1.1 connected to an LCD display. It is well visible (read further, in the description) the row of LEDs used to check the logic state of up to 8 I/O ports or external circuits' pins. Of course, if you own an 8 trace oscilloscope, you can do without it. :-)) On the right bottom the programming cable. Characteristics of the DB12 As I have done with the PIC 16F84 / C84 Evaluation Board, ...
Read more

›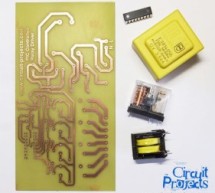 Project Summary This circuit is a relay driver that is based on a PIC16F84A microcontroller. The board includes four relays so this lets us to control four distinct electrical devices. The controlled device may be a heater, a lamp, a computer or a motor. To use this board in the industrial area, the supply part is designed more attentively. To minimise the effects of the ac line noises, a 1:1 line filter tr ...
Read more

›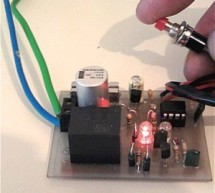 Project Summary Build yourself a single shot Pic Micro Controlled by stable Relay FEATURES 1. One touch activated for on or off 2. Open connections for other sensors 3. 10 -12 volt operation 4. Led indicators for on off status 5. Can be Rf controlled 6. Can be serially controlled 7. All code Flow charts included 8. All circuit boards layouts, schematics, c code, precompiled hex files included Project Descri ...
Read more

›
This is an improved version of my 18-pin PIC16F series breadboard module that I have used in many of my PIC tutorials and projects published in this website. The new version has got a +5V power supply regulator on-board and a 2.1mm female barrel jack for DC input from a wall adapter. The 18-pin PIC16F series microcontrollers are still very popular among hobbyists and beginners because of their compact size, ...
Read more

›
The 12F series of PIC microcontrollers are handy little 8-pin devices designed for small embedded applications that do not require too many I/O resources, and where small size is advantageous. These applications include a wide range of everyday products such as hair dryers, electric toothbrushes, rice cookers, vacuum cleaners, coffee makers, and blenders. Despite their small size, the PIC12F series microcon ...
Read more

›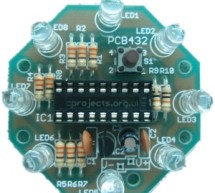 Description This page is has been written to support construction of the UFO LED Chaser Kit #432K. This neat little circuit provides 8 LEDs directly driven from the PIC along with a single mode control switch.  The firmware elsewhere on this page drives the LEDs with a 5 bit PWM signal providing each of the 8 LED channels with four levels of intensity; off, dim, mid, bright.  A number of sequences are progr ...
Read more

›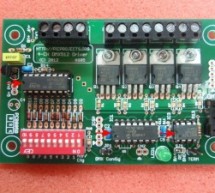 The original DMX512 driver project #800 is now redesigned to incorporate the optional address configuration switch on the main PCB. The no-switches in-band DMX configuration feature is still retained Double sided PCB has resulted in a more compact board size. Firmware has been updated to run a latest generation enhanced midrange PIC16F1823 processor. Description This project is a 4 channel DMX512 driver boa ...
Read more

›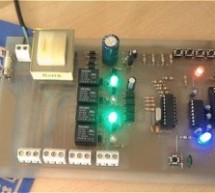 Project Summary Computer Controlled, relay board designed to be either operated manually via switches on the board or nine way Type Connector via PC or laptop. Provision has been made for USB serial adaptor. The Project utilises PIC Micro technology with windows visual interface written C Sharp utilising Dot Net version 4. It can be interfaced to other adapters Keypad adapter (Optional) or RF receiver (Opti ...
Read more

›