DS18S20 Dual Temperature Meter Component List: 1x 2x16 LCD with Backlight 1x 16x1 LCD Female Header Connector 1x 16x1 LCD Male Header Connector 1x Programmed PIC16F628 2x DS18S20 1-Wire Digital Temperature Sensor 1x 100nF Capacitor 1x 10K Pot (LCD Contrast) 1x 10K Resistor 2x 1K Resistor 1x 10 Resistor 1x LM7805 Voltage Regulator 1x Tactile Switch (Display Modes) 1x 2-PIN Male Header Connector 1x 4-PIN Mal ...
Read more

›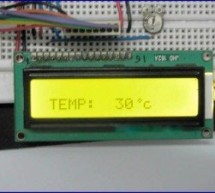 A Digital Thermometer can be easily constructed using a PIC Microcontroller and LM35 Temperature Sensor. LM35 series is a low cost and precision Integrated Circuit Temperature Sensor whose output voltage is proportional to Centigrade temperature scale. Thus LM35 has an advantage over other temperature sensors calibrated in Kelvin as the users don't require subtraction of large constant voltage to obtain the ...
Read more

›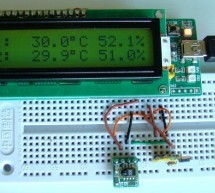 Temperature and relative humidity are two very important ambient parameters that are directly related to human comfort. Sometimes, you may be able to bear higher temperatures, if there is a lower relative humidity, such as in hot and dry desert-like environment. However, being in a humid place with not very high temperature may make you feel like melting. This is because if there is high relative humidity, ...
Read more

›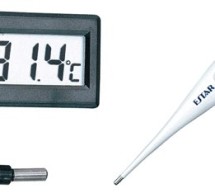 Temperature sensors are used in a wide range of electronic devices, including digital thermometers, home thermostats, ovens, and refrigerators. Figure 1 shows two devices with temperature sensors. Figure 1. Devices with temperature sensors. The temperature sensor provided in your kit is a precision analog sensor, whose voltage output is linearly proportional to the temperature. Configured as described here, ...
Read more

›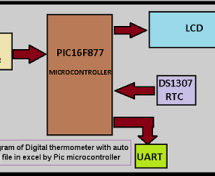 Digital thermometer with auto saving log file in excel by Pic microcontroller is vary advance, useful and realistic project. The implementation filed of this project is wide. Now a day's atmospheric prediction saves lots of life. And for getting wright prediction we have to analysis lots of recorded data. By using this project it can be easily serve the purpose. Project description: To know the project desc ...
Read more

›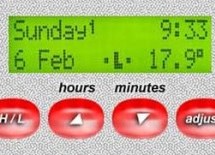 Always at the right time your house on temperature This project make use of a PIC16F648(A) and a DCF77 receiver from Conrad (Orderno. 64 11 38) With DCF77 runs the clock from the thermostat always on the right time. Synchronizing isn't necessary anymore. The temperaturesensor is a DS1820 or DS18B20 and on a HD44780 (or compatible) 2x16 LC-Display becomes day, date, time, temperature (with 0.1°C precision) a ...
Read more

›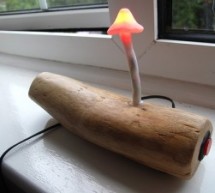 About a year ago I started on a project to make a temperature controlled nightlight. I was inspired by seeing these lovely LED lamps styled as mushrooms growing out of pieces of wood. Those mushrooms were made out of glass, which was somewhat beyond my skills. However I then saw some had used translucent sculpey to make mushroom nightlights on instructables. So with that discovery it seemed like it would be ...
Read more

›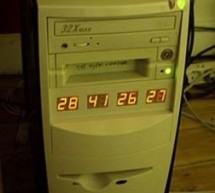 Since I started my watercooling prejoect, I have been verry interested in how well it perform, the only way is to measure all temperatures before and after, The motherboard temperature sensors is useless unacurate, so I'm using LM50B By using this LM50B sensor I get 1 C of real accuracy I use a PIC16F876 to drive a four two digits LED displays, the PIC16 has 4 analog inputs with 10 bits resolution, now I ca ...
Read more

›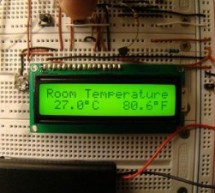 Digital thermometers are cool devices as they show temperatures in human readable formats. This digital thermometer project is based on a PIC16F688 microcontroller and a DS1820 temperature sensor, and it displays temperature on a character LCD screen in both Celsius and Fahrenheit scales. I selected PIC16F688 for this project because it is cheap (I bought one for $1.50). DS1820 is a 3-pin digital temperatur ...
Read more

›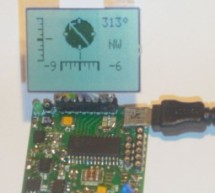 This page will show you how to use the TD-CMP modules in a way which fits you most. Here are the technical specifications of the modules: Compass: Resolution: 1° - Accuracy: 3° Tilt/Roll: (TD-CMP02 and TD-CMP03 only) Resolution: 2° - Accuracy: 5° Temperature: (TD-CMP03 only) Resolution= 1°C/F - Accuracy =1° New: Sampling rate: 12,5 to 25 samples/second. Easy Tilt/Roll calibration.(TD-CMP02 and TD-CMP ...
Read more

›