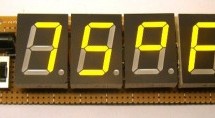 This project is about building a microcontroller-based digital room thermometer plus hygrometer that displays temperature and relative humidity on 4 large (1 inch) seven segment LED displays which adjust their brightness level according to the surrounding illumination. It consists of a closed loop system that continuously assesses ambient light condition using an inexpensive light-dependent resistor (LDR) a ...
Read more

›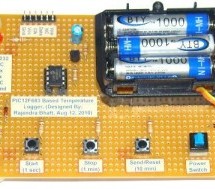 Introduction There are varieties of digital temperature logger projects available online based on different microcontrollers. The one I am going to talk about is based on a Microchip's 8-pin microcontroller, PIC12F683. It reads temperature values from a DS1820 digital sensor and stores in its internal EEPROM. PIC12F683 has 256 bytes of internal EEPROM and we are going to store the temperature values in 8-bi ...
Read more

›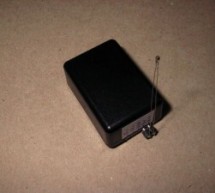 Description This project uses a MicrochipPIC microcontroller, a serial EEPROM and a thermistor to create a temperature recorder. Performance The temperature is measured and stored at user programmable intervals; this can be from 1 second to 256 seconds. The time interval is set by programming it and the start time into the EEPROM. Most of the time the PIC will be asleep and the EEPROM IC is inactive. This g ...
Read more

›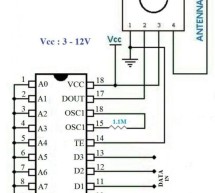 Here is a simple, versatile project which indicates the level of water and automatically controls it by using PIC Microcontroller. The Water Level Sensing Section senses the level of water in the tank and sends it (wireless) to the Receiver Section. Receiver Section is connected to the Controlling Section, which process the received information and produces visual, sound indications and controls the operati ...
Read more

›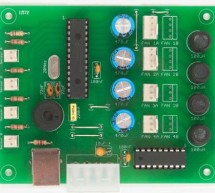 he Intelligent Fan Controller is designed to control the noise generated by the fans inside your computer. It does this by varying their speed based on temperatures measured inside the case. When it is cool the fans will run slowly and they will only speed up when needed... when your computer is running hot. Anyone with a noisy computer, especially a Media Centre system in the lounge room, will benefit from ...
Read more

›
EEPROM is useful for storing long term data such as data logger information and this PIC microcontroller EEPROM project saves the temperature from an LM35DZ IC to the PIC's internal long term data storage area.  The project follows on from the last project using the virtually the same hardware. It stores temperature readings internally at regular intervals until full and after this it turns on the LED. The ...
Read more

›
 DS18S20 Dual Temperature Meter Component List: 1x 2x16 LCD with Backlight 1x 16x1 LCD Female Header Connector 1x 16x1 LCD Male Header Connector 1x Programmed PIC16F628 2x DS18S20 1-Wire Digital Temperature Sensor 1x 100nF Capacitor 1x 10K Pot (LCD Contrast) 1x 10K Resistor 2x 1K Resistor 1x 10 Resistor 1x LM7805 Voltage Regulator 1x Tactile Switch (Display Modes) 1x 2-PIN Male Header Connector 1x 4-PIN Mal ...
Read more

›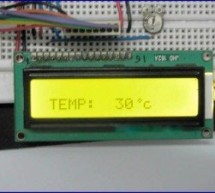 A Digital Thermometer can be easily constructed using a PIC Microcontroller and LM35 Temperature Sensor. LM35 series is a low cost and precision Integrated Circuit Temperature Sensor whose output voltage is proportional to Centigrade temperature scale. Thus LM35 has an advantage over other temperature sensors calibrated in Kelvin as the users don't require subtraction of large constant voltage to obtain the ...
Read more

›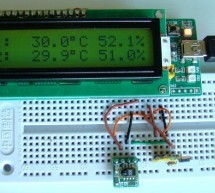 Temperature and relative humidity are two very important ambient parameters that are directly related to human comfort. Sometimes, you may be able to bear higher temperatures, if there is a lower relative humidity, such as in hot and dry desert-like environment. However, being in a humid place with not very high temperature may make you feel like melting. This is because if there is high relative humidity, ...
Read more

›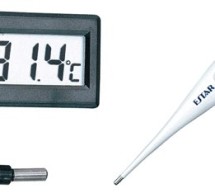 Temperature sensors are used in a wide range of electronic devices, including digital thermometers, home thermostats, ovens, and refrigerators. Figure 1 shows two devices with temperature sensors. Figure 1. Devices with temperature sensors. The temperature sensor provided in your kit is a precision analog sensor, whose voltage output is linearly proportional to the temperature. Configured as described here, ...
Read more

›