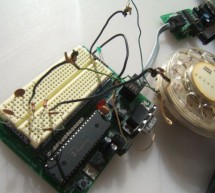 Rotary dialer PIC interface I have found myself with an abundance of rotary phones. In fact, they're everywhere I look. In hopes that I may someday see less of them, I've begun taking them apart and re-using the parts for other purposes. For some reason I got it into my brain that interfacing the rotary control with a PIC chip would be a good idea. I can only think of a couple of vague uses for it at the mo ...
Read more

›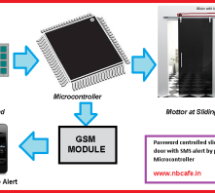 In today's world implementation of any expert system with maximum data and networking security becomes a real necessity in home, academic organizations as well as in industrial communities. To provide this security here I give my project on "password controlled sliding door with SMS alert by pic microcontroller". Project Objective: The proposed system is a chamber, which is closed by a sliding door. A Keypa ...
Read more

›
After taking apart dozens of disposable cameras over the years, I found myself with a lot of lenses of varying sizes and nothing to use them for... until now! By making a simple carriage that would hold the lens and attach to my iPhone via rubber band, I was able to make a virtually free macro lens that takes amazingly close shots in practically no time at all.  In this Instructable, I will build one with 2 ...
Read more

›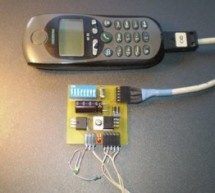 After GSM call alarm and GSM SMS alarm as two independent modules, I introduce the Tiny GSM alarm system. The main characteristic of this new version is that this device can operate standalone or as a module for existing alarm system. In previous versions we had only the "enable" pin that armed/disarmed the system. Now, aside from that pin we can arm/disarm the system by calling it with our phone. UPDATE 2: ...
Read more

›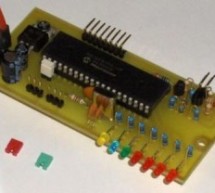 This device acts as interface between your microcontroller project and a GSM phone. It handles all modem data communication between the GSM phone and your micro-project. The best thing is that it decodes PDU into TEXT on the fly! You can easily SMS-enable your any project without need for learning AT commands and parsing complicated data when talking to AT modem inside the phone. UPDATE: Source code is now ...
Read more

›
Connected to a burglar alarm or fire alarm in the event of making phone calls playing voice messages. Controlled via DTMF actuators can operate on the spot. In recent years we have introduced several telecontrols based on the SIM900 GSM module. We released schematics and code for a gate opener (that activates when receiveing a call from a given number), a GSM thermostat to manage the temperature of remote h ...
Read more

›
The device is based on a GSM/GPRS module with included GPS. Its main function is to detect and communicate its own geographical position using, on the choice, the cellular phone reference system or the GPS. Its small dimensions are due to the use, for the first time, of a GSM/GPRS module integrating the GPS receiver. That is the SIM908 a recent product by SIMCOM.] Circuit schematic of the localizer The circ ...
Read more

›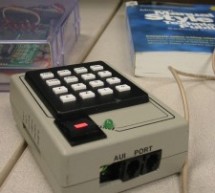 The company I work for recently upgraded their phone system. They got a new IP phone system that can supposedly do everything - the new phones have big LCD screens with fancy menus, lots of different modes, PC connection for remote control of the phone, e-mailing voice messages, and tons of other features. All that said, there was a critical piece missing from the picture - a way to dial a stored number whi ...
Read more

›
Stereo FM band receiver with RDS decoding for mobile applications. Continuous full RDS data output through RS232: RDS PS, PI, TA/TP/TMC, CT, TMC. Full Radio Text supported: 2x64 characters. Raw TMC data output. Low power operation with two AA (HR6) 1V2 Ni-Mh batteries or power supply. Power input range is +2.4V ... +3.0V, 50..60mA without OLED and 80..90mA with OLED. Runs on a PIC18F46K20 at 16 MhZ. Full us ...
Read more

›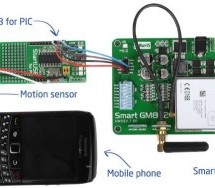 MikroEleketronika demonstrates how to build a simple home alarm system that has the capability of sending SMS to a predefined cell phone number when intrusion is detected. This project is based on StartUSB for PIC board, a small development board for PIC18F2550, which is preprogrammed with an USB bootloder so that no additional programmer is required to load the firmware. The SMS portion uses a SmartGM862 B ...
Read more

›