18 pin PIC Development Board I have long been playing with Microchip PICs but have always made do without some form of development board. To that end I have designed a basic board that I was hoping to get some input for. I haven't yet made this board as I am waiting for some kit to turn up to finish it off and make it, however I thought others may be in a position to use or modify it. Project requirements T ...
Read more

›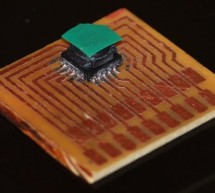 Now the PCB kit I used described how I could draw my circuit layouts directly unto the copper clad board using an special pen with etch-resistant ink, however lacking the dexterity of an artist I chose to get myself some CAD software for generating PCB layouts. After a bit of research I decided to go with EAGLE from CadSoft which has free lite edition, mostly because it seemed popular. I have to say that as ...
Read more

›
The device used for measuring daily insolation has been developed. The device was built with a PIC18F458 and the 128MB Multimedia Memory Card, MMC. The solar radiation is measured by a calculator solar cell. The PIC chip interfaces the MMC using SPI mode. The interval between samples is set to one minute. The firmware detects the memory card, assignes the file name and begins recording automatically. The LC ...
Read more

›
"Ready for PIC" is one of MikroElektronika's compact prototyping boards for 28 and 40 pin PIC microcontrollers. The board comes with PIC16F887 microcontroller which is preprogrammed with an UART bootloader firmware and thus eliminates the need of an external programmer. The on-board USB-UART module allows the serial data transfer between the PIC and a PC using an USB cable. It has also got a reasonable size ...
Read more

›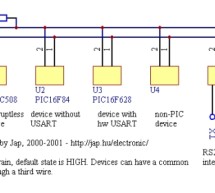 overview There are three PIC source versions: PB12 is for 12-bit slave devices without interrupt PBUS is for slave devices with an interrupt, software UART implementation PB628 is for slave devices with an intterupt and a free hardware UART PBUS assigns a unique device ID in the range 1-f for every controller on the bus. The maximum number of slave devices on one bus is maximized in 15. Current protocol is ...
Read more

›
Guys, in this step by step instruction, I wanna share my private experiment with PIC16F877A and assembly language, I call it Build yourself flashing message on PIC16F877A with assembler Let's prepare the parts Step 1: The parts needed for this experiment 1. PIC 16F877A chip 2. The board for PIC 16F877A 3. LCD 16x2 4. G540 chip programmer 5. MPLAB 6. Time for editing and understanding assembly For mor ...
Read more

›
Intro: Chronograph for Air Cannon This chronograph project consists of a sensor assembly and timer circuit box that can be used to measure the muzzle velocity of a projectile fired from an air cannon. I originally built this setup for use with a large air cannon with a 3" bore. The sensor assembly is attached to the end of the air cannon barrel. It contains infrared sensors used to detect the passage of the ...
Read more

›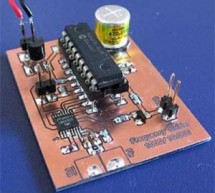 Background Most multimeters can measure frequency, but they are not sensitive and the max frequency is not always so high. The same problem can be found with older frequency counters. This project will describe a prescaler which will work up to 2.5GHz and with very high input sensitivity. The prescaler will divide the input frequency with either 1000 or 10.000. The divided output signal is 0/5 volt and can ...
Read more

›
The Talking Breathalyzer Mark II Hi Folks! Thanks for having a gander!  This is my second Breathalyzer project.  IT TALKS TO YOU, and gives you an idea of how much you've had to drink! I made it specifically for for this contest.  I hope you all like it.  From a block diagram point of view, it consists of a DC power regulator circuit, an analog alcohol sensor + driving circuit, an audio recording and playba ...
Read more

›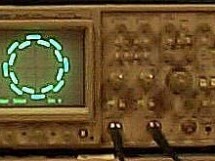 Background My friend Arthur, in his lifelong quest for circuits that don't really do anything useful, but are really neat nonetheless, built a really neat Lissajous pattern generator. This Lissajous pattern is not your traditional circle, oval, or figure-8, it is a circle with varying amplitude, in a pattern that makes it look like a sprocket. Not satisfied with that, he also made it so that the sprocket ro ...
Read more

›