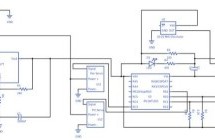 This is a good learning project that is fun to build - I got a lot out of making it. I think this has been done quite a bit already, but I did not find a straightforward way of doing this with PICs. When I finally got it working, I thought I'd share it. It might be useful for someone that wants to learn or apply I2C, Interrupts and Callbacks, PWM, or Servo Control. Basic Functionality Detects and tracks an ...
Read more

›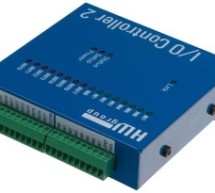 This code runs on a PIC 16F627A or 628A (and A.F.A.I.K 627/628 parts).  It uses the serial USART on the PIC to communicate with a PC. Through this a simple CLI (Command Line Interface) is implemented that allows commands to be sent to the PIC to control output lines and read and return the status of inputs on the PIC The serial interface is configured to operate at 9600bps, 8bits, No Parity, 1 stop bit. Por ...
Read more

›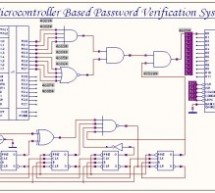 Aim: - To simulate a circuit using microcontroller 8051 for verifying password. Theory: - The block diagram for microcontroller based password verifying system is shown. The purpose of the circuit is to verify the password entered by the user. An 8-bit password is the input to this system (A simple example has purposely been dealt with here for the convenience of an average student. The student may modify t ...
Read more

›
The CATV Tuner sold by MTM Scientific, Inc can be used for wideband audio and video reception, as described on our other project pages such as the FM Wideband Receiver and Radio Telescope Project. A common requirement in all these projects is the need to program the CATV tuner with a serial bit stream to establish operating frequency. We have previously described a method which uses a computer's parallel po ...
Read more

›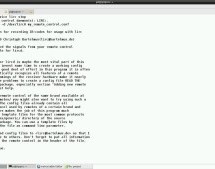 Introduction The remote controls that are orphaned when the device they control stopped working are reusable on your Raspberry Pi. After completing this instructable, you may be interested in trying out the following instructables: Reuse Unwanted Remote Control to Shutdown and Reboot Raspberry Pi Reuse Unwanted Remote to Launch Graphical Application in Raspberry Pi Scope This instructable will show how to u ...
Read more

›
The 'One Chip Spinning RGB POV Display' with conversion software. If you have been on the look out for a project that combines, RGB LED's, a motor, a microcontroller and a ridiculous amount of hot melt glue, then you have certainly come to the right place. Allow me to introduce the 'One Chip' Spinning RGB POV Display This project allows you to create (with minimal components) a fantastic customizable displa ...
Read more

›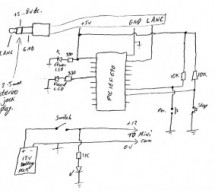 Cheap PIC controlled Helmet Camera using Sony LANC (Good for Extreme Sports) This Instructable will show you how to make a cheap Helmet Camera which can be controlled via a remote so your main camera can stay safely in your ruck sack. The controller can be attatched to one of the shoulder straps of you ruck sack, and will allow you to Record and Stop the camera as well as being able to switch the 'bullet' c ...
Read more

›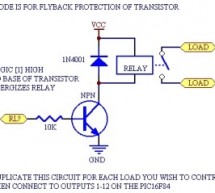 This article shows how to use the PIC16F84 microcontroller with PicBasic to design a quick & effective, serially controlled, I/O-Expander.  Using PicBasic makes developing handy single-chip devices like this extremely simple. If you're spending all your time programming in assembler, you'll appreciate how simple PicBasic is to use, and how easily you can create single-chip solutions like this one in mer ...
Read more

›
Introduction This project is for the hobbiest who wants to build a measurement and display unit for an Awana Grand Prix® track (also known as a Pinewood Derby track.) The racetrack for which I designed this unit is a 4-car track. A car is approximately seven inches long, is released by a gate at the starting line, rolls down the ramp by gravity, and crosses the finish line in approximately five seconds. Thi ...
Read more

›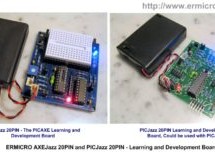 These days we are living and surrounding by many tiny computers called embedded products. Unlike the general purpose desktop computer that we use for browsing or typing our email, this tiny computer is designed to do only a limited specific task. We could easily found this embedded product just about anywhere such as home appliance (e.g. washing machine, refrigerator, microwave oven, TV/DVD), personal gadge ...
Read more

›