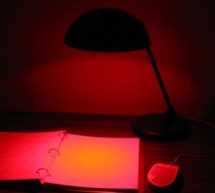 When doing astronomy observing at night preserving night vision is critical. This requires using the minimum amount of light that makes the sky charts readable. What is this minimum level depends on how dark are your surroundings, how much time you have spent in darkness, how well your eyes adapt for night vision, what type of charts are you using, what object are you observing, and so on. My old astronomy ...
Read more

›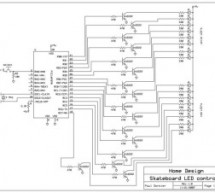 What do you get when an Electrical Engineer builds a Skateboard from scratch for a 13 year old's Christmas present? You get a skateboard with eight white LEDs (headlights), eight red LEDs (tailights) all controlled via PIC microntroller! And I might add, one very happy 13 year old, well as happy as a 13 year old can be. Following is how I modified a skateboard kit (from ROAROCKIT.COM), added LEDs to the fro ...
Read more

›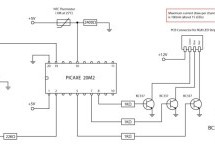 Combining Coffee and Electronics – An Idea for a Project Having played around with fixed function logic ICs, such as the Johnson counter used in the Spindicator project, I was keen to move on and experiment with programmable microcontrollers. I decided to obtain and play with some PICAXE chips, as they looked like they would provide an easy introduction to using microcontrollers. Soon enough I was flashing ...
Read more

›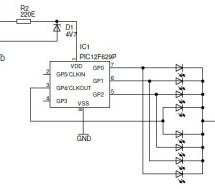 This knight rider light computer is a successor of my first version of the Knight Rider. This version is much smaller and justifies the use of a microcontroller. The project is based on the PIC 12F629 microcontroller. The hardware part Unlike my previous project this light computer is build around the PIC12F629: a microcontroller with only 8 pins. It is shipped in a DIL-8 housing. An external clock is not n ...
Read more

›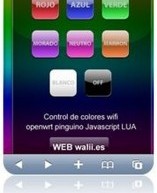 RGB REMOTE (pinguino+web+linksys) This project has several uses, it is basically a way to control an RGB LED group (tricolor with common ground) via a web page to select which color we want to show. It may be a way to harmonize a room, change the color of a swimming pool or just fooling aroun Step 1 RGB REMOTE webserver and serial connection In my case the web server is in Linksys router which I have "hacke ...
Read more

›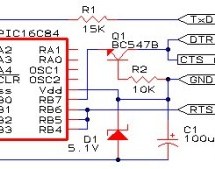 This programmer works only with PIC16F84 but it's great because it never causes errors and works with almost all computers,unlike some other homemade programmers. Step 1: Step one : Materials For this programmer you won't need many materials.In fact , you will find all you need in your local electronics shop ;) So here's what materials you will need: -IC Board -RS232(Serial) FEMALE connector -BC547B or 2N39 ...
Read more

›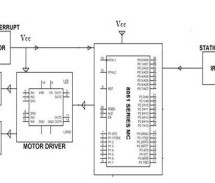 Every one in the metro cities like Kolkata, Delhi enjoying the luxuries of the metro train ever spared a thought about the train? No, then let me give you a brief idea about the driverless automatic driven and controlled train. But before that let us have a brief recall about types of metro automation. The Driver Controlled Mode: In conventional modes, it's the manual driver who drives the train and control ...
Read more

›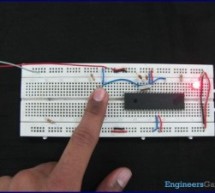 Any microcontroller based system typically has an input and a corresponding output. Taking simple output with a PIC microcontroller has been explained in LED blinking with PIC18F4550. This article explains how to provide an input to the controller and get a corresponding output using PIC18F4550. PIC18F4550 has a total of 35 I/O (input-output) pins which are distributed among 5 Ports. Each Port of a PIC micr ...
Read more

›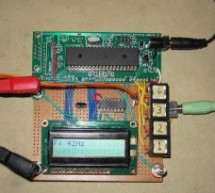 Introduction The Handy Lab Buddy is a tool every ECE should have. The four features of this tool include a talking voltmeter, logic probe, voltage averager, and frequency measurer. As a cheap and accurate device that outputs whatever being measured through speakers, it's one of its kind and an essential tool for lab work. Summary Have you ever tried to debug a circuit and just wished your voltmeter would ta ...
Read more

›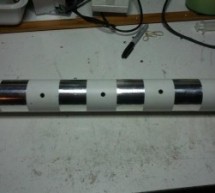 Built utilizing a 24 Channel High Current USB LED Controller to control 12 volt RGB LED Light Strip, in 8 separate groups. Each group has individual 8-bit PWM which can create over 16 million colors. And is driven at full current for maximum color saturation and accuracy. Using the ColorMotion Compatible Firmware, various colors patterns and effects can be created in the software and the uploaded to the dev ...
Read more

›