Robot 1: "Little Jimmy" based on PICAXE-18M2 I wanted to build this little robot to give me a fun and flexible platform for learning more about programming, RC (radio-control), drive trains (the mechanics that make it go) and the newest PICAXE processor, the 18M2. Under a modest budget, I sought to salvage materials and build as much as I could rather than purchase a kit. Since I live in an apartment, my av ...
Read more

›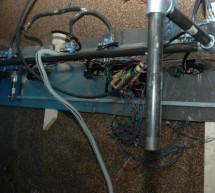 System Overview La Fontaine Du Campus Est (The Fountain of East Campus) is a computer-controlled, servo-actuated, LED and halogen-lit, sump-pump powered water fountain. It features five streams of water that can each be individually controlled (on/off) as well as pivoted (90 degrees of freedom). Each stream of water is lit by a halogen light. The perimeter of the fountain has RGB triplets that can perform v ...
Read more

›
Since we now have a beautiful robotic chassis, we're ready to continue our Building A Robot series, and get serious with some motor control. This second part of building a robot is perhaps the most crucial as it will define what type of control we will have over the motors. Ideally, we want a simple method for controlling the motors so that our software is free to do other things. In this article we will mo ...
Read more

›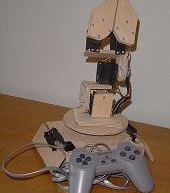 Introduction When I first started in the field of robotics, electronics and sensors I had always wanted to make my own robotic arm. The idea of being able to make such an advanced idea come to life out of simple parts found around the house was mind boggling to me. So inspite of that, I set out to prove to myself it was possible. I went through several initial designs before I set my heart on the one that y ...
Read more

›
Last time we had a project on Arduino robots with Bluetooth and Android, and in that one our readers Mr. Paul asked how he can make an obstacle avoidance robot. So today I came up with another engineering project for electronics and communication students, Android and Bluetooth controlled robot using PIC Microcontroller with object detecting capability. After installing MikroElectron's Robot Control App fro ...
Read more

›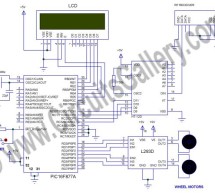 After a short break, we're back to the DIY robot projects series and I am sure you'll love this one too. Before that I suggest you to go through all our earlier simple robotics projects for engineering students as well. This time, major difference is the added security to access the robot; you can control the robot only after you speak your password. The robot can move in four directions and can be controll ...
Read more

›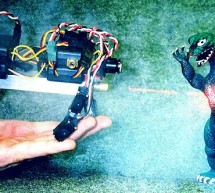 I promised to post some of my past microcontroller vision projects. This one has a Microchip PIC directly sampling a video signal. 8 pins well used. Collapsible Quadruped Robot with Computer Vision, Laser Ranging, and Servo Control on a Single-Wire Network Photos and video capture by Glenn Currie. Download project design_files_PicVid97.zip. Austin Texas, 1997. I found a nice piece of aluminum and the Microc ...
Read more

›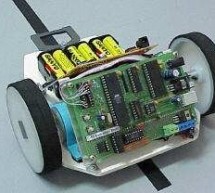 Usea C-52 EVB for simple robot experiments. Build a simple two wheels robotwith L293D H-Bridge driver and IR sensors. Write a C program controls robottracked with black tape. Fun with Ving-Peaw Competition 2543, course layout,day-by-day changed rule and scoring also included! Introduction One of my student has made a disgracefulrobot that used two stepper motors and with a simple IR sensor. Yes, abov ...
Read more

›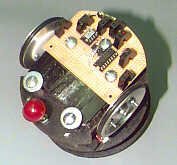 Design Goal: The JavaBot1 is a small line following robot designed to follow a black line drawn on a dry erase board. It is designed to follow very tight curves. The software still has lot's of room for improvement but works well as is. Motive Power: The JavaBot1 uses 2 Cirrus CS-70 servos that have been modified for full rotation and have had their controller boards removed to convert them from serv ...
Read more

›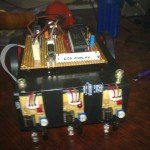 Line Follower Robots are the most common type of robots that are built by hobbyist and student interested in robotics and embedded systems. The reason for the popularity of the Line Follower robot is the fact that is simple to build and easy to understand the logic behind it. This post will give you working level knowledge on building and programming line follower robots from scratch. A robot is a combinati ...
Read more

›