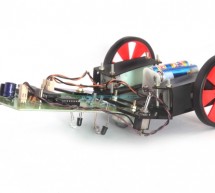 The project is designed to develop a robotic vehicle that follows a specific path. This project uses a microcontroller of 8051 family for its operation. A pair of photo sensors comprising IR transmitter and photo diode is interfaced to the controller to detect the specified path for its movement. Line follower robot is a useful robot that is used in ware houses, industries, and stores etc, where it follows ...
Read more

›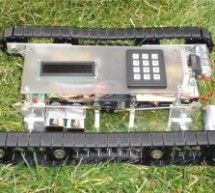 Design   Summary: Our group designed  and  manufactured a  miniature  robotic  vehicle  that  conquers  various terrains.    The  vehicle  was designed  with  a  track system  which is  powered  by  two  DC motors. The  motors   use a  Quadruple half  H ‐Driver in  order to  drive the  motors  in  both  directions.   The track system  incorporates a  four  bar linkage  for each  tread.    These two  linkage ...
Read more

›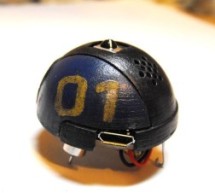 Pingbot is a very small (38mm diameter), usb rechargeable, programmable, musical, remote control robot designed for maximum fun and danceability. I've built a few experimental robots in the past and, to be honest, they all looked the part. They were nothing more than circuit boards with wheels glued on.They did help me learn, but they just didn't feel like completed robots. The main purpose of this project ...
Read more

›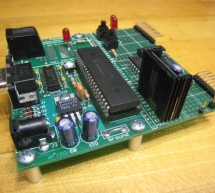 I was contacted by somebody who suggested I should enter our senior design project here. Seeing as how we found and used the AX-12s from Trossen Robotics, I figured this would be a great place to post. This project was our senior design, a semester long course that requires a team of electrical and computer engineering undergraduates to design, order parts for, build, and program a piece of their choosing. ...
Read more

›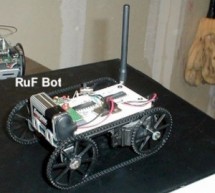 RF is just way too cool not to use in your designs. But if you're a newbie like me it is difficult to successfully build solid RF transmitters and receivers. When I started out I didn't realize that the larger breadboard I was working off of was causing a lot of the signal deviance because the metal traces on the breadboard worked like small capacitors and changed my circuit dynamics. So after much research ...
Read more

›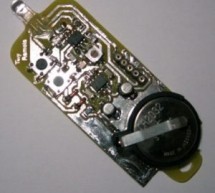 Description The Tiny Remoteis a very compact infrared remote control with only two buttons to control an iRobot Roomba. It produces three different infrared control signals that the robot interprets as Clean, Spot and Virtual Wall/Lighthouse. The circuit is built mostly using SMD components to reduce its size, nearly to the size of a keychain and is powered by a CR2032 coin battery. Design Considerat ...
Read more

›
Building the Mongoose Mechatronics Robot: Part 1 Chassis & Gearbox This is the first of a series of illustrated instructions for assembling the Mongoose Robot kit available from blueroomelectronics Mongoose highlights: Powerful PIC18F2525 microcontroller (32KHz to 32MHz) Hardware PWM controlled SN754410 H-Bridge with thermal shutdown Differential drive with powerful 114.75:1 gearbox Low drag steel ball ...
Read more

›
Robot 1: "Little Jimmy" based on PICAXE-18M2 I wanted to build this little robot to give me a fun and flexible platform for learning more about programming, RC (radio-control), drive trains (the mechanics that make it go) and the newest PICAXE processor, the 18M2. Under a modest budget, I sought to salvage materials and build as much as I could rather than purchase a kit. Since I live in an apartment, my av ...
Read more

›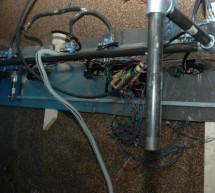 System Overview La Fontaine Du Campus Est (The Fountain of East Campus) is a computer-controlled, servo-actuated, LED and halogen-lit, sump-pump powered water fountain. It features five streams of water that can each be individually controlled (on/off) as well as pivoted (90 degrees of freedom). Each stream of water is lit by a halogen light. The perimeter of the fountain has RGB triplets that can perform v ...
Read more

›
Since we now have a beautiful robotic chassis, we're ready to continue our Building A Robot series, and get serious with some motor control. This second part of building a robot is perhaps the most crucial as it will define what type of control we will have over the motors. Ideally, we want a simple method for controlling the motors so that our software is free to do other things. In this article we will mo ...
Read more

›