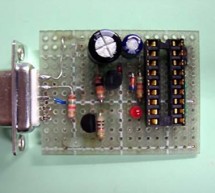 About the Programmer This is a Simple com port based Microchip PIC microcontroller Programmer,This Programmer is based on JDM programmer.The entire programmer is built around commonly available components Features Does not support the usb to serial converter. Works with most of PIC mcu. Works with 18F2550 and other 18F series mcu. Connections to the Target MCU you can programe may microcontroller  by using ...
Read more

›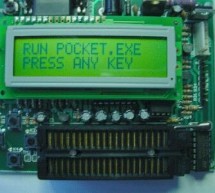 http://www.bubblesoftonline.com/pocket/pocket.html HOT! Tony Nixons Pocket Programmer. The Pocket Programmer is a stand alone serial programmer that can program most of the PICmicro®MCU range of microprocessors. (12C6xx, 16Cxxx, 16Fxxx, 18Cxxx) It works from a single 18VDC supply or with 2 X 9 volt batteries. Combine this with 64K of on board EEPROM which can store upto 32 HEX files and you have a truely po ...
Read more

›
this video explain about Micro C software for PIC programming ...
Read more

›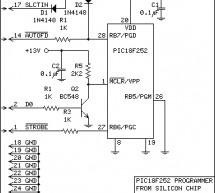 1. Introduction This investigation was started after I ordered the free sample kit for the Circuit Cellar contest, called Mad Dash for Flash Cash. There seems to be many ways to program the device. Here I have investigated two ways of programming the PIC18F252. 2. In-Circuit Serial Programming™ The Microchip document Programming the PIC18FXX2/FXX8, describes programming either the high or the low voltage In ...
Read more

›
Project Summary In this project we are building a JDM programmer that can handle PIC12, PIC16 and PIC18 family microcontrollers and some popular 24C family EEPROMs. The programmer also provides ICSP feature that allows In-Circuit Serial Programming. So if you desire, you will not have to carry your MCU each time when you reprogram it. The circuit is connected to the PC via serial port and no external power ...
Read more

›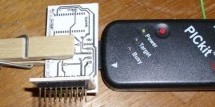 A small PCB allows for the out-of-circuit programming of 18 & 28 pin SOIC PIC Microcontrollers from either an ICSP programmer or ZIF socket. A recent article in a popular electronics magazine presented a small printed circuit board for programming 18-pin SOIC PICs from a ZIF socket. Looking at the design I knew instinctively that it would be unusable with the set-ups I use, which is a shame, as I'd just ...
Read more

›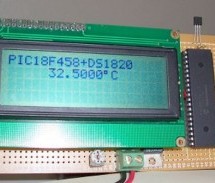 This loader connects the PC printer port and works with WinPic800. The loader gets DC supply from application board and provides +12V for high voltage programming mode. We can use it for programming many PIC chips easily. Hardware Schematic The In-circuit serial programming for PIC chips requires only three signals, i.e. a bi-directional DATA line (PGD), a synchronize clock (PGC), and a +12V Flash programmi ...
Read more

›

This project is a micro controller chess game. The objective has to be able to play chess on a VGA monitor, including an intelligent computer to play against. This all has been accomplished with a microcontroller. I started this as a project for the college ( I am a Electrical Engineering student ), but it has grow way beyond that. Now it is a complete chess game with a video output, keyboard for user inter ...
Read more

›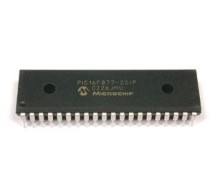 Here's the minimal code to make timer 1 (a 16 bit timer) work using PICBasic. General descriptions of PIC timer variables used to control the timer: (you should be able to use these no matter what programming language you use): T1CON.0 is the first bit of the timer configuration byte, this bit is used to start and stop the timer. --so-- T1CON.0=1, starts the timer T1CON.0=0, stops the timer TMR1H is the tim ...
Read more

›
uni5_a.bmp - PCB of parallel programmer UNIPROG V-A uni5_as1.bmp - schematic diagram of G.Tait's programmer with 4066 uni5_ao1.bmp - layout of components of G.Tait's programmer with 4066 List of components: 1 x slot for ISO card (eight pins are enough) 1 x female Centronix connector 36pin 1 x 74LS06 (7406) or 74LS07 (7407) 1 x 4066 1 x 7805 (78L05) 1 x 7812 1 x 1N4001 D1 2 x 1N4001 (1N4148) D2,D3 1 x LED gr ...
Read more

›