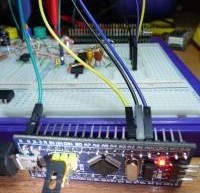 Mork is adaptation of Nanu nanu Microchip PIC ICSP for the STM32 based vcc-gnd or Maple mini. Both STM32 boards are inexpensive boards which don't cost much more than the Nano 3.0 yet they are far more powerful. One complication though for the vcc-gnd, is that it comes with a serial boot loader which is not accessible via it's USB port. This means that another device is required to program the vcc-gnd which ...
Read more

›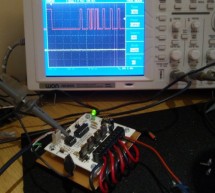 Description This project is a 4 channel DMX512 driver board.  It features four power MOSFETs that can be configured to operate in PWM mode or as on/off outputs.  The driver can be configured to use any four consecutive addresses across the full 512 channel address range.  It can be used to drive LED arrays or low voltage lamps in PWM mode or operate relays in static mode. Feature list: 4 channels with low ...
Read more

›
The PIC16F628A has always been my first choice for microcontroller-based projects. It is simple, inexpensive, and easily available. Due to its compact size (18 pins) it occupies lesser space on the circuit board, and meanwhile, it is powerful enough to serve most of a hobbyist's needs. It is a very well accepted successor of the classic PIC16x84, and therefore, the tons of resources available for PIC16x84 o ...
Read more

›
Whac-a-Veggie For this year's Trunk 'O' Treat game I wanted to make a something fun and exciting for kids to play so I choose a Whac- a-Mole type game called Whac-a-Veggie using the Veggie Tales characters. The Whac-a-Veggie game is played with a foam hammer in your hand and the veggie characters randomly popping-up quickly and you have to hit them on the head before they go back in there holes to sc ...
Read more

›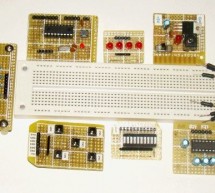 Breadboards are a great tool for prototyping and testing electronics circuits. Here I am sharing with you some plug-in modules that I once made to make my breadboarding life easier. I have used these modules many times in the PIC experiments described in this blog. These modules  serve very common functions that are required in most microcontroller circuits. Their use not only reduces the number of wire con ...
Read more

›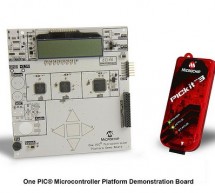 One PIC Microcontroller Platform Development Board Develop firmware using Microchip's 8/16/32-bit PIC® Microcontrollers all on one board! Each device comes preprogrammed with firmware to operate the LCD, LED and capacitive touch pads. In addition to three PIC® Microcontrollers, this board also has a dedicated Real-Time Calendar Clock circuit and is able to run from a single AAA Ultimate Lithium batte ...
Read more

›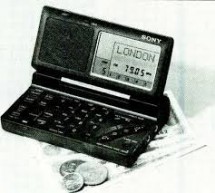 An electronic dice project circuit can be designed in various modes , using logic circuit or using microcontrollers . This electronic project is based on the PIC16C54 microcontroller , manufactured by Microchip . This project is a simple dual dice electronic project , that use few external electronic parts and LED displays , to generate ( simulate ) dices . As you can see in the schematic circuit , the main ...
Read more

›
A Simple Development Board Ok, so you have now got your programmer, and you have a PIC or two. It is all very well knowing how to program the PIC in theory, but the real learning comes when you try your code on a PIC and see the results yourself in a circuit. You could build a circuit each time and program the PIC to see if the program works, or you can make yourself a development board. A development board ...
Read more

›
Development board backplane Plug-in part by wave soldering process , the board also neat reverse . The curved surface of the pad foot , guaranteed not to scratch your desktop. The system uses a fully independent module design , DIY leave enough space to the user can use any combination of the modules for a variety of experiments. The benefits of individual modules is self-evident , but for beginners operati ...
Read more

›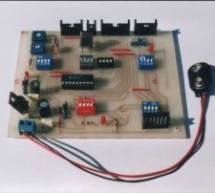 Introduction When I set, some time ago, about working with a PIC 16x84, I had immediately to face the problem to have a permanently and stably working circuit, without mounting the PIC on a prototype board every time. Searching on the net, I didn't find anything really complete for a PIC 16F84 / 16C84; I therefore decided to personally build an Evaluation Board allowing to operate with this microcontroller ...
Read more

›