LED Binary Clock This is the second revision of my PIC based LED binary clock. The original version was the first PIC project I attempted, it used a PIC16F84A to do both the timekeeping and control the display matrix, unfortunately it didn't keep good enough time and gained about a minute every week. This second version is based around a PIC16F628A running at 4MHz to control the display, it also uses a DS13 ...
Read more

›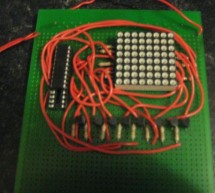 8x8 LED matrix This instructable will show you how to make a 8x8 LED matrix in witch you can control evry single LED and create your own patterns as long as they only need 64 pixels to show them in one color.Update 25.09.10 I've added a pattern generator to create patterns but not all of it's features are complete LED 8X8 Matrx pattern generator.rar193 KB Materials Materials you need: -8x8LED matris (can ma ...
Read more

›
3x3x3 LED Cube Here is my 3x3x3 LED Cube project. It runs using a PIC16F690. Along with the brief explanation of how to make it, I have also included the .asm file for the PIC and a piece of software written in VB.NET that you can create your own LED patterns. These can be exported as .asm files and put into the main .asm code. Building Each layer of 9 LEDS are connected with all of the cathodes together. T ...
Read more

›
Intro: Mood vase I'm a fan of LEDs, lots of LEDs.  So here's a slightly less crass way of using LEDs for decorative purposes. While this is by no means a neat and polished solution, and probably not the first of its kind, however the pulse effect is as far as I have seen unique, and exactly what I wanted.  I hope that this will inspire others to create similar. The set-up It consists of a plain, unmodified ...
Read more

›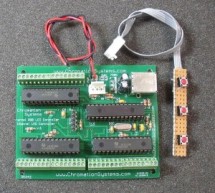 48 Channel Mono / 16 Channel RGB LED Controller The 48 Channel Mono/16  Channel RGB LED Controller by Chromation Systems can be used to independantly control 48 groups/channels (up to 120ma per group) of mono-color LEDs or 16 groups/channels of common anode RGB LEDs. It utilizes 3x TLC5940 LED drivers controlled with a PIC 18F2550 microcontroller. The PIC runs at 48mhz, has USB connectivity and controls the ...
Read more

›