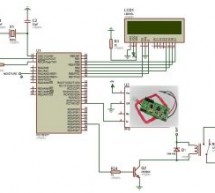 This project is about RFID based electronic lock using pic microcontroller. RFID tags are used to open and close electronic lock.  Only those users who have authentic RFID tag will be able to open lock by using their assigned RFID tags or cards. In this RFID based electronic lock, RFID module is interfaced with pic microcontroller. RFID receiver used to receive tag number through radio frequency communicati ...
Read more

›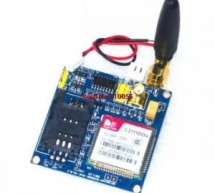 Home security system using PIR sensor and GSM module: Hi Everyone I am all of you are fine and doing well. Today's project is about Gsm based home security system using PIR sensor, SIM900A gsm module and pic microcontroller.  In this sms based home alarm system, we are using PIR sensor as motion detector module and GSM module will be used to send sms to home owner number whenever motion sensor detect any mo ...
Read more

›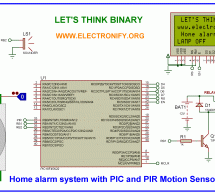 This project describes a home security alarm based on a Passive Infra-Red sensor module (HC-SR501) and PIC18F45K22 . PIR sensor is used to detect motion in the environment and is commonly known as motion sensor. When the microcontroller detects the PIR sensor is triggered, it drives the relay switch and trigger an alarm. Its quite helpful in security projects where you need to detect motion. PIR sensors all ...
Read more

›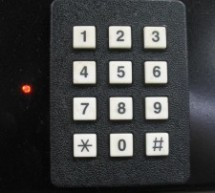 Introduction This program is a simple combination lock that I designed for an old Sentry® fire safe that was given to me without any lock electronics. I created a front panel with a keyboard and microprocessor with a six-digit combination sequence. Details The LED flashes to show it's alive after power is applied. The lock solenoid requires 6VDC at approxmately 2 amps. Given that a small 9V battery is used ...
Read more

›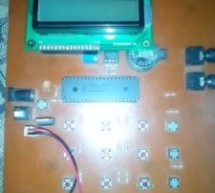 Hi Guys! This is a project that I made using pic microcontroller its an Electronic PIN Code Security System with real time clock and user define pin code features, this page contains all the details to make one yourself. ITS WORKING AND CONCEPT: Well by turning Security System on, it will ask for a PINCODE to open gate, (its 140595) if you enter it correct, the door will open. Door is opened for 1 min only, ...
Read more

›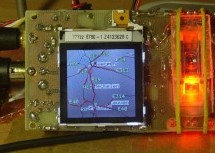 Main roads traffic status and incident report and display. Technical specifications: Dual display: colour road map (left) and detailed text messages (right) both with LED backlight. Up to 120 TMC messages are stored in memory. Auto/manual TMC message scrolling. GPS position locator/follower optional. Map navigation with  mouse sensor and/or micro joystick. Map zoom 10km to 80km (in 10km steps) City and area ...
Read more

›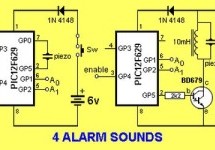 This project is a miniature 1-chip alarm. All you need is a tilt switch, battery and piezo to produce a complete alarm. If you want a very high output, you can add a Darlington buffer transistor, piezo tweeter and a 10mH choke. The chip does all the work. It sits in sleep mode (100 microamps) and waits for the enable line to go high via the tilt switch. It then produces a SPACE GUN alarm for approx 3 minute ...
Read more

›
Solar tracking system using pic microcontroller, In this article you will learn what is solar tracking system? Why We need of solar tracking system ? Which methods of solar tracking system being used now a days ? How to design Solar tracking system ? circuit diagram of solar tracking system. How to write code of Solar tracking system using pic microcontroller? Let's start with basic introduction of solar tr ...
Read more

›
The Button Code is a system that allows a single button to act as a keypad. The user enters a 4 digit code into the system using button taps. The button can be placed where the public can access it since like a keypad there are many combinations to keep guessers from activation the system. When the correct code is entered a form-C relay is activated (Normally Open and Normally Closed relay contacts). When a ...
Read more

›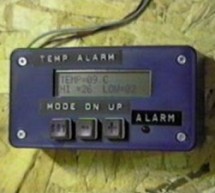 Presented is a simple temperature alarm which uses a PIC16C84 microcontroller and a 2-line LCD display. The alarm displays current temperature in both Celsius and Fahrenheit degrees and features a 3-key keypad which allows the user to set independent high and low termperature alarm points. The alarm also records the minimum and maximum temperatures encountered. System Specifications: The unit is designed to ...
Read more

›