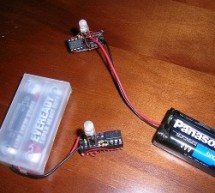 I had a few multicolor LEDs laying around and wanted to whip up a color-blending nightlight. I built 2 devices, each in its own 20 pin DIP socket without soldering. A 3-pin header is included so I can reprogram the light on-the-fly if desired. On my first build, I used wire-wrap. The next one used multiple wires pushed into the socket. A bit more difficult, but no wire-wrapping or soldering necessary. Parts ...
Read more

›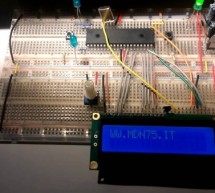 Hi welcome to my 4th chapter of PIC18F4550 programming. Here we are going to learn another methodology or technique for programming a pic18f microcontroller which would be helpful in future while dealing with complex coding. We are going to define our own header file. We are also going to see the Source Code and will understand the importance, benefits of programming a microcontroller this way on Mplab ide. ...
Read more

›
TUTORIALS PIC18F4550 Programming Tutorial in Hardware C PIC Tutorial, Mplab IDE - C18 compiler toolsuite PIC18F4550, Looking the data sheet | Ports PIC18F4550 Programming Blink led method 1 PIC18F4550 programming Method 2 Blink led PIC18F4550 Blink LED 20MHZ Oscillator | XC8 Mplab X IDE and XC8 compiler Blink LED PIC18F2550 programming: Blink LED | XC8 PIC18F4550 Tutorial: Blinking an LED | Chapter 3 Welcom ...
Read more

›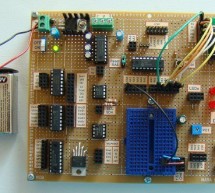 The reference voltage plays a very important role in any A/D conversion. It determines both the range and the resolution (Volt/Count) of the A/D conversion. Besides, the accuracy of the conversion also depends upon how stable the reference voltage is. Usually in PIC microcontrollers, the reference voltage for A/D conversion can be selected as the supply voltage itself or provided externally through one or m ...
Read more

›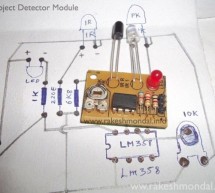 How to make Infrared (IR) sensor Object Detection Module Circuit Using IR LED and Photodiode The IR Object Detection sensor module is quiet easy to make. This sensor circuit below is a low cost - low range infrared object detection module that you can easily make at home using IR LED's. We will use a photodiode and IR LED to make a simple circuit. IR led looks like a regular LED that you usually see in Tele ...
Read more

›
Description As featured in Electronics Weekly Gadget Freak (20/02/2008) The main reason I made this version is that I wanted to fit it in to the base of an Ikea Mylonit lamp. This lamp is made entirely from glass and has a small recess in the base with an entry for the power lead.  Since it had nowhere to fit a separate power connector but did have a slot for a power lead to pass in to the base, I needed to ...
Read more

›
LED fireflies prototype hello all, heres an attempt i made at something like an LED throwie..the problem (for me) with led throwies is that they just consume their battery, and produce light.. but they could be better at doing both.. first you have to accept the premise that your willing to spend a bit more for the tradeoff.. the inspiration for this came from some of my other projects, and of course the "L ...
Read more

›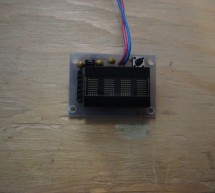 Programmable watch with four character display You'll be the talk of the town when you wear this obnoxious, oversized, completely impractical wristwatch. Display your favourite foul language, song lyrics, prime numbers, etc. Inspired by the Microreader kit, I decided to make a giant watch using similar sixteen segment displays. Twelve hours later, I came out of my masochistic fugue and stopped trying to rou ...
Read more

›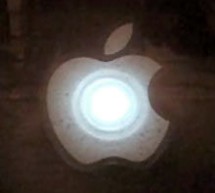 Throbbing Apple Logo Sticker This little gizmo adds the iconic "sleeping Mac throb" to an ordinary Apple logo decal. The idea for this came about when passing by the Apple Store in Palo Alto, California late one night. After hours, when the store is "asleep," the lighted logos out front pulsate just like the power indicator on a sleeping Mac, and I just about fell over laughing. Unrelated, the following day ...
Read more

›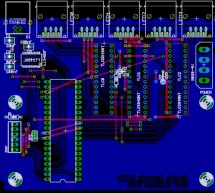 This is an ongoing project to control a number (currently 5) of Lamina Atlas high power (350-500mA) LEDs. Current progress includes: PCB artwork (in Eagle) with connections for 5 RGB LEDs. Firmware for a Microchip PIC16f887 microcontroller to interface between the FTDI 245R USB chip and a number of Texas Instruments TLC5940 constant current LED drivers. Python ctypes interface to libftdi. A simple Python in ...
Read more

›