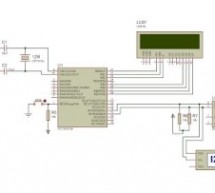 This tutorial will help you to interface DS1307 RTC with PIC16F877 Microcontroller. The project is compiled in CCS Compiler and simulated with Proteus. The Real Time Clock is interfaced with PIC controller via I2C. I2C is a 2 wire communication protocol. I2C is used for moving data from one device to another simply and quickly. It is a serial, synchronous, Bi-Directional protocol, the data is synchronised   ...
Read more

›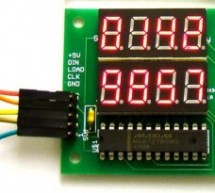 This project is an extension of my previous MAX7219 based SPI seven segment LED display module. The new display features eight 7-segment displays arranged in two rows of four digits. The on-board MAX7219 driver enables you to easily add eight 7-segment LED displays to your project using only 3 I/O pins of microcontroller. The major advantage of using this board is the time-division multiplexing operations r ...
Read more

›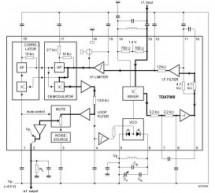 Parts: 1x TDA7000 IC - FM Receiver 1x 3.5 Turns Variable Coil (L1) 1x MV2105 - Varicap Diode ANT - Telescopic Antenna or a piece of wire 1x 100K Potentiometer 1x 100K Resistor 1 x 22K Resistor 3x 100nF Capacitor 1x 22nF Capacitor  1x 10nF Capacitor 2x 3.3nF Capacitor 1x 2.2nF Capacitor 1x 1nF Capacitor 2x 330pF Capacitor 2x 220pF Capacitor 2x 180pF Capacitor 1x 150pF Capacitor   Technical Specifications: Su ...
Read more

›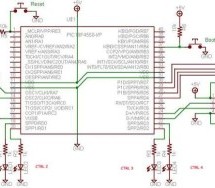 USB PROJECT: - USB INTERFACE BOARD USING PIC18F4550 Microcontroller CONTROL - 6 LEDS C# software ( 4.0 .net framework) PIC18F4550 Firmware - for 6 LED's. TUTORIAL FOR BEGINNERS It's a low cost USB interface Board that provides cool interface to your computer and it can be used to control various devices like DC Motor, Stepper motor ,Servo ,relay switch etc. with your laptop or any computer with a USB port a ...
Read more

›
The EEPROM (ELECTRICALLY ERASABLE PROGRAMMABLE READ ONLY MEMORY) is a very useful memory which can be used for storing data. The data storing and retrieving from any EEPROM memory is very simple compared to other kind of memories. As the name suggest the memory is electrically programmable and hence the data will be sustained in the memory until it is electrically erased or reprogrammed. There are lots of E ...
Read more

›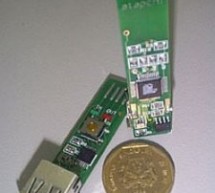 [Any] idea is dead without a good application for it. So "California Dreamin'" USB virtual peripheral could be a very nice sample of academic research, but hardly anybody is going to build a keyboard or mouse using it. I have been thinking for a while what to do with it as well. First project that came to my mind was building a hardware key logger for USB keyboards, something like www.keyghost.com, built fo ...
Read more

›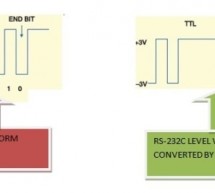 Here is a simple project on How to transmit serial data to pc using built in usart(universal Syncronous-Asyncronous receiver transmitter)of PIC 16f877 microcontroller. The data Transmitted by PIC microcontroller is received by computer through its (Serial)DB-9 Port and is displayed on Hyperterminal window. Since microcontrollers works on TTL  wave form and standard PC(Personal Computers) works on RS-232 wav ...
Read more

›
This post provides the ADC code using PIC12F675 microcontroller. This code is written in C language using MPLAB with HI-TECH C compiler. You can download this code from the 'Downloads' section at the bottom of this page. It is assumed that you know how to interface LCD with PIC12F675 microcontroller. If you don't then please read this page first, before proceeding with this article. The result of simulating ...
Read more

›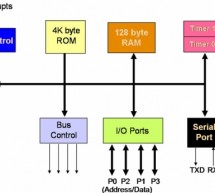 Interfacing is one of the important concepts in microcontroller 8051 because the microcontroller is a CPU that can perform some operation on a data and gives the output. However to perform the operation we need an input device to enter the data and in turn output device displays the results of the operation. Here we are using keyboard and LCD display as input and output devices along with the microcontrolle ...
Read more

›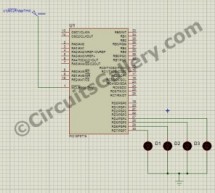 This is our PIC Microcontroller tutorial series. We have already discussed basic beginners guide to PIC. Now let's see how to simulate the PIC microcontroller?PIC simulation is the important step that you should do before practical implementation of any microcontroller projects. As Circuits Gallery covers topic of Microcontrollers especially with PIC (Peripheral Interface Controller), this guide shows how t ...
Read more

›