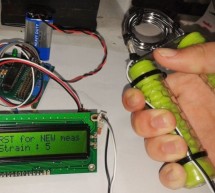 Did this DIY Hand Dynamometer as a sensor for PICAXE micro-controller. It also can be use for Arduino or any micro-controller too. List of the materials I used to make Hand Dynamometer : 1) Hand Exerciser from Amazon - 1 pc 2) Flex Sensor 2.2" from Amazon - 1pc 3) Some cable ties 4) Wires 5) Plastic holder for IC chip. 6) Super glue 7) Double sided tape Tools require : 1) Hot glue gun 2) Scissor 3) Solderin ...
Read more

›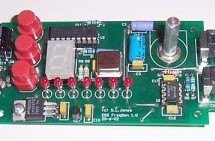 An extremely simple and low cost Sine/Square wave generator based on the Analog Devices AD9835 Direct Digital Synthesis (DDS) Generator chip. The frequency can be set for any frequency from 1Hz to 10MHz in 1Hz resolution steps! All this with three push buttons and a novel "sliding window" LED display. The controller chip is a Microchip PIC16F628. There is no wiring, and the PCB fits into a standard UB3 Jiff ...
Read more

›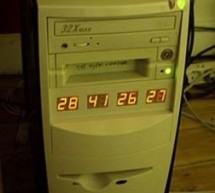 Since I started my watercooling prejoect, I have been verry interested in how well it perform, the only way is to measure all temperatures before and after, The motherboard temperature sensors is useless unacurate, so I'm using LM50B By using this LM50B sensor I get 1 C of real accuracy I use a PIC16F876 to drive a four two digits LED displays, the PIC16 has 4 analog inputs with 10 bits resolution, now I ca ...
Read more

›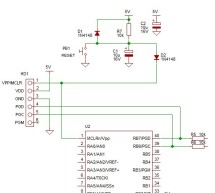 PIC ICSP gives you a convenient way of programming PIC Micros without removing the chip from the development or production board. Note: ICSP stands for In Circuit Serial Programming. All you need is a programmer that provides the ICSP connector (usually a six pin molex/dupont connector) which you plug into your target board. For example PicKit2/Pickit3 uses the ICSP connections shown in the diagrams below. ...
Read more

›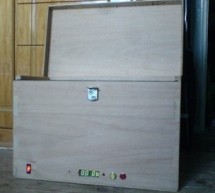 Introduction Tired of spending hours and hours in wire soldering? Do your circuits look ugly and you are looking for a way to produce professional-like PCBs? Then you had better try photoetching. And the first step to do that is to have the right equipment that is an Automated Exposure Box. Moreover if you like tinkering with microcontrollers, here is the challenge and it's high time you launched the design ...
Read more

›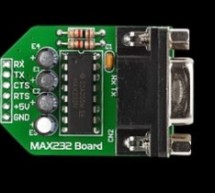 This post provides the software UART (Bit Banging) code for PIC12F675 microcontroller (e-g to connect PIC controller with PC using serial adapter). As we know, PIC12F675 microcontroller doesn't have built in UART module, so we can create UART functionality in it's software. This post provides the details of how to program software UART functionality in PIC12F675. This code is written in C language using MPL ...
Read more

›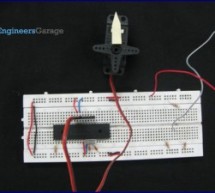 Servo systems use the error sensing negative feedback method to provide precise angular motion. Servo Motors are used where precise control on angular motion is needed. Servo motors are widely used in the field of Robotics to design robotic arms, palms, legs and so on. They are also used in RC toys like RC helicopter, airplanes and cars. The interfacing of servo motor using PIC microcontroller has been expl ...
Read more

›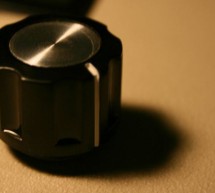 How to interpret the direction of rotation from a digital rotary switch with a PIC The objective for this Instructable is to illustrate how to interface a digital (quadrature coded) rotary switch with a microcontroller. Don't worry, I'll explain what quadrature coded means for us. This interface and the accompanying software will allow the microcontroller to recognize the direction of rotation for each mo ...
Read more

›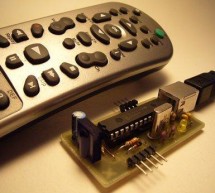 ow that we listen to MP3s, and watch XVIDs or x264s, a computer is the entertainment center in at least one room of most homes. Unless you have a special HTPC, though, you're probably stuck using the keyboard to pause, change the volume, and fast-forward through annoying Mythbusters recaps. PC remote control receivers range from ancient serial port designs (who has one?) to USB devices not supported by popu ...
Read more

›
Potentiometers find applications in many electrical devices. For example, a light dimmer uses a potentiometer to control the brightness of lamps. In amplifiers, they are used to control the output volume of the music, or change the bass level. In an adjustable power supply we see potentiometers to vary the output voltage and current. In a frequency generator, they are used to control the duty cycle and freq ...
Read more

›