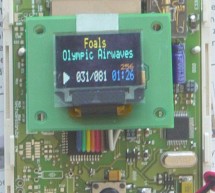 The EchoMp3 is a small DIY* Audio player. Mp3, Wav, Ogg-Vorbis, Wma and Mid formats are supported. 4, 8, 16 GB SDHC cards used as storage. FAT (FAT16) and FAT32 supported. Low power operation with two AA (HR6) 1V2 Ni-Mh batteries. Power input range is +2.4V ... +3.0V Runs on a PIC18F46K20 at 64 MhZ. Up to 320 kBps bitrate CBR  and VBR at 44,1 kHz supported. ID3 v2.3 tags supported. Full user control (volume ...
Read more

›
Global Positioning System is based on satellite navigation technology. A GPS Receiver provides the accurate location of an object in terms of latitude and longitude. Accurate time calculation with respect to GMT can also be done by using GPS. For more information on different data obtained through GPS, refer GPS Receivers. Here a PIC microcontroller has been interfaced with a GPS module to extract its posit ...
Read more

›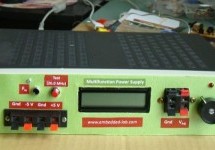 One important parameter in embedded system designing is power consumption. This parameter is directly related to the battery lifetime, if the system is to be powered from a battery. In order to determine the power rating of your designed system, you need to know how much current the system draws from the source at a given voltage. While working on my projects, I usually measure current by placing an externa ...
Read more

›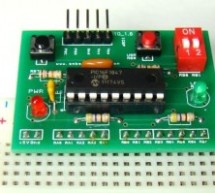 Because of their compact size, ease of use and many built-in peripherals, the 18-pin PIC16F series processors (PIC16F628A, PIC16F88, and now PIC16F1827/47) have always been my favorite microcontrollers. Many of my projects and tutorials written in this blog also use PIC16F628A and PIC16F1827 microcontrollers. As I will be using them more in the future too, I thought of making some PCB versions of my breadbo ...
Read more

›
RFID (Radio Frequency Identification and Detection) is widely used everywhere from highly secured defense laboratories to school attendance system. By employing RFID, much secured entry systems can be developed without incurring huge costs. These are the reasons of excessive use of RFID technology. In this article, interfacing of an RFID reader module has been explained with PIC18F4550. The USART interrupt, ...
Read more

›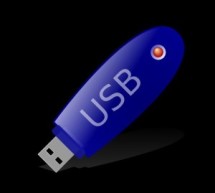 Introduction This page describes a project a colleague and I completed between September, 2000 and March, 2001 as part of the Engineering Physics degree program at the University of British Columbia.   In summary this project involved building a USB device using the PIC 16C745 microprocessor from Microchip.  The USB device consisted of a microphone, the microprocessor and other hardware and the device sent ...
Read more

›
The RGB LED contains three LEDs encased in one shell: Red, Green and Blue (some contain an extra blue led - as blue LEDs generate less output intensity (candela) per mA). It looks like a single white led except that it has four leads - one for the common ground connection and one for each led. Basic operation The average current through each of the LEDs determines it's light output i.e. its contribution to ...
Read more

›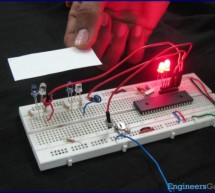 Analog comparator is an electronic device which compares the two voltage signals and provides TTL logic output to indicate the larger signal. The analog comparator is used in various applications where two inputs signals need to be compared. IR sensor is a very common example where analog comparator is used. PIC18F4550 has two in-built comparators which can be used in eight different modes. These in-built c ...
Read more

›
Interrupts are special events that require immediate attention. They cause the processor to cease the running task to serve a special task for which the interrupt event had occurred. After the special task is over, the processor resumes performing the original task. The processor can also serve these events by polling method. But polling is an inefficient technique as compared to interrupts. In the polling ...
Read more

›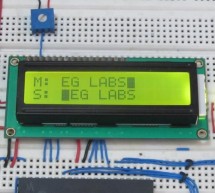 The Serial Peripheral Interface (SPI) is a high speed, synchronous, serial communication standard. This communication protocol is basically a Master – Slave implementation where the master device controls the clock based on which the slave devices operate. The master communicates with a slave or a number of slaves in a system through the SPI bus. The SPI bus requires a minimum of three wires including SDO ( ...
Read more

›