Project Summary Build yourself a single shot Pic Micro Controlled by stable Relay FEATURES 1. One touch activated for on or off 2. Open connections for other sensors 3. 10 -12 volt operation 4. Led indicators for on off status 5. Can be Rf controlled 6. Can be serially controlled 7. All code Flow charts included 8. All circuit boards layouts, schematics, c code, precompiled hex files included Project Descri ...
Read more

›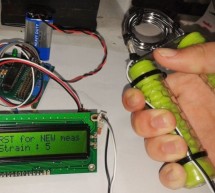 Did this DIY Hand Dynamometer as a sensor for PICAXE micro-controller. It also can be use for Arduino or any micro-controller too. List of the materials I used to make Hand Dynamometer : 1) Hand Exerciser from Amazon - 1 pc 2) Flex Sensor 2.2" from Amazon - 1pc 3) Some cable ties 4) Wires 5) Plastic holder for IC chip. 6) Super glue 7) Double sided tape Tools require : 1) Hot glue gun 2) Scissor 3) Solderin ...
Read more

›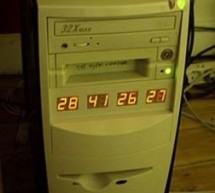 Since I started my watercooling prejoect, I have been verry interested in how well it perform, the only way is to measure all temperatures before and after, The motherboard temperature sensors is useless unacurate, so I'm using LM50B By using this LM50B sensor I get 1 C of real accuracy I use a PIC16F876 to drive a four two digits LED displays, the PIC16 has 4 analog inputs with 10 bits resolution, now I ca ...
Read more

›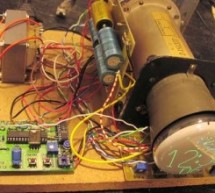 Powersupply and CRT deflection and microcontroller test circuit. I was lucky to purcase two used but working DG7 tubes and a transformator cheap, one from Mullard and one from Phillips. Other CRT Cathode Ray Tube types can be used, you can even rip one from an old and maybe dead oscilloscope, then you also get the powersupply and stuff, if you are lucky the deflection amplifiers also work :-) Then your own ...
Read more

›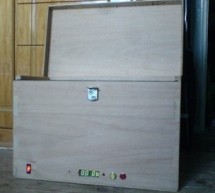 Introduction Tired of spending hours and hours in wire soldering? Do your circuits look ugly and you are looking for a way to produce professional-like PCBs? Then you had better try photoetching. And the first step to do that is to have the right equipment that is an Automated Exposure Box. Moreover if you like tinkering with microcontrollers, here is the challenge and it's high time you launched the design ...
Read more

›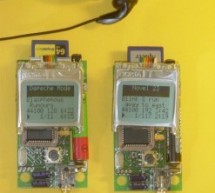 The EchoMp3 is a small DIY* MP3 player. It's cheap and of excellent quality. 64, 128, 256, 512MB and 1, 2, 4 GB MMC and SD(HC) cards used as storage. FAT (FAT16) and FAT32 supported. Low power operation with a single AAA (HR03) 1V2 Ni-Mh battery. Runs on a 18LF452 or 18LF458 at 20 MhZ. Up to 256 kBps bitrate at 44,1 kHz supported. VBR may peak at 320 kBps. ID3 v2.3 tags supported. Full user control (volume, ...
Read more

›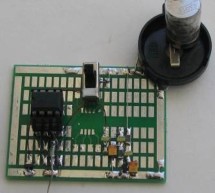 You can add this circuit to all sorts of projects that require on-off control. Our design allows up to 4 touch sensors using a PIC12F629. The output of each touch sensor is active LOW and this can be connected to an additional circuit to control a LED, motor or relay etc. The photo of the project shows one output with the two LEDs connected in series to produce an infinitely high input impedance so that one ...
Read more

›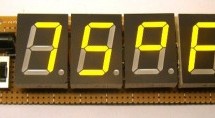 This project is about building a microcontroller-based digital room thermometer plus hygrometer that displays temperature and relative humidity on 4 large (1 inch) seven segment LED displays which adjust their brightness level according to the surrounding illumination. It consists of a closed loop system that continuously assesses ambient light condition using an inexpensive light-dependent resistor (LDR) a ...
Read more

›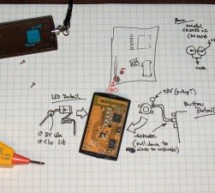 What This Is This project is for a small electronic unit that allows the user to sense the presence and relative signal strength of wireless hotspots. It can be worn as a pendant or carried in a pocket. It is "always on" and communicates the presence and signal strength of an in-range hotspot by way of sequences of pulses - like a heartbeat you can feel. The stronger and faster the "heartbeat", the stronger ...
Read more

›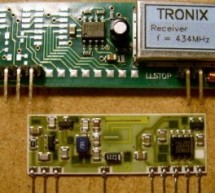 Control up to 8 devices by this easy constructable remote control. It can work as a radio or infrared remote control, depending on the components. Each device output can be configured to be momentary (turned on while you press the button) or latched. Latched outputs can be toggled on/off by one button per channel, or turned on and off by two buttons per channel. Try it now, before building! Click on the tra ...
Read more

›