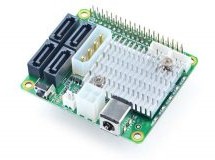 Have you ever wondered owning a fully powered NAS (Network-Attached Storage) system, but the cost buying one has been holding you back, well, now this is past, and you can easily build a simple NAS platform for just a fraction of the cost. The Nano Pi M4 launched by FriendlyElec back in 2018, was one the smallest, and most affordable Rockchip RK3399based SBC, sharing similar layout as the Raspberry Pi 3 and ...
Read more

›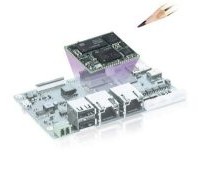 Dual Cortex-A7 and Cortex-M4 integrated – graphics, communication and real-time control on one chip – evaluation board available Kontron, a leading global provider of IoT/Embedded Computing Technology (ECT), is one of the first companies to introduce a System-on-Module (SOM) based on the brand-new STM32MP157 processor by STMicroelectronics. By the Dual Cortex-A7 and the Cortex-M4 processors' three cores in ...
Read more

›
Variscite reveals the portfolio of its new i.MX based products that will be presented next week at the Embedded World 2019 exhibition & conference. Variscite is the only NXP partner who was granted early access to all i.MX 8 programs and will present next week a respectable number of new System-on-Modules based on i.MX 8M Mini, i.MX 8QM and i.MX 8X as well as the i.MX 8M that was released in 2018. Along ...
Read more

›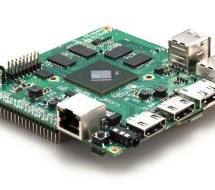 4Kopen has showcased at 2019 Integrated Systems Europe (ISE 2019) at the beginning of the month a new 4K capable board featuring STMicro STiH418 Media Processor. The development board comes with 2 GB RAM, HDMI 2.0 output, HDMI 1.4 input, Gigabit Ethernet, USB 3.0, a mini PCIe slot fitted with an 802.11b/g/n WiFi module, an eSATA connector and more. The board is a fully open source 4K development platform wi ...
Read more

›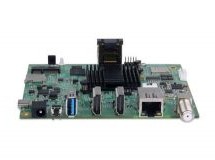 Geniatech released a new NXP i.MX 8M development board called APC810. The Geniatech APC810 is a Consumer Edition board based on the i.MX 8M series of SoCs. The NXP i.MX 8M family of applications processors based on Arm® Cortex®-A53 and Cortex-M4 cores provide industry-leading audio, voice and video processing for applications that scale from consumer home audio to industrial building automation and mobile c ...
Read more

›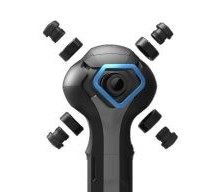 Capitalizing on the global trend of 360-degree imaging, ASPEED Technology Inc., the world's largest BMC (Baseboard Management Controller) SoC provider, is pleased to announce at MWC19 Barcelona the Cupola360 solutions, world's advanced Spherical Image Processor specifically designed for 360-degree Camera, as well as the accompanying apps, which cemented the company as the pioneer and leader in state-of-the- ...
Read more

›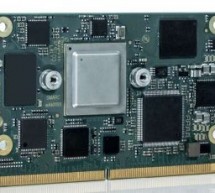 Kontron has launched the "SMARC-sAMX8X" module with low power I.MX8X series processor. The SMARC module runs Linux on a dual- or quad Cortex-A35 i.MX8X SoC with up to 3GB LP-DDR4, up to 64GB eMMC, dual GbE controllers, and PCIe. Kontron's SMARC-sAMX8X delivers NXP's mid-range i.MX8X SoC package in an 82 x 50mm SMARC 2.0 form factor, just like Congatec's Conga-SMX8X module. Other i.MX8X modules include a Qse ...
Read more

›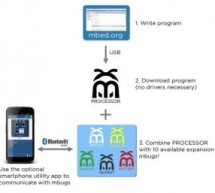 mbugs™ The mbug™ ecosystem is the integration of miniaturized electronics based around the ARM Cortex-M microcontroller, the free ARM mbed online compiler, and an intuitive smartphone utility app! Whether you are a student, hobbyist, or engineer, the mbug ecosystem enables you to quickly implement your electronics projects. mbugs are simple enough that you don't need to be an expert to turn your idea into a ...
Read more

›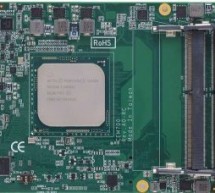 Axiomtek has unveiled the CEM700, its first COM Express Type 7 module with 5th Gen Intel Xeon or Pentium CPUs, 2x 10GBASE-KR, 2x SATA III, a lot of PCIe, extended temperature support, and a new Type 7 carrier board. The CEM700 offers processor options from the 16-core Intel Xeon D-1577 and quad-core Pentium D1519 processors from Intel's 5th Generation "Broadwell-DE" family, led by the 16-core, 1.3/2.1GHz Xe ...
Read more

›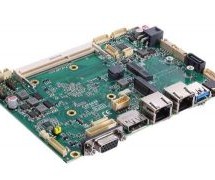 3.5″ Embedded SBC with Intel® Celeron® Processor J1900/J1800, LVDS, VGA, DisplayPort, Three GbE LANs and Audio. CAPA84R, is a fanless 3.5-inch embedded motherboard powered by the Intel® Celeron® processor J1900 quad-core or J1800 dual-core. The CPU is located at the rear side of the motherboard, which further aids the heat-extraction process and simplifies maintenance procedures. This fanless embedded board ...
Read more

›