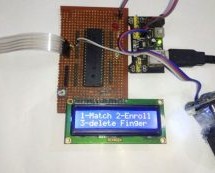 Finger Print Sensor, which we used to see in Sci-Fi movies a few years back, is now become very common to verify the identity of a person for various purposes. In present time we can see fingerprint-based systems everywhere in our daily life like for attendance in offices, employee verification in banks, for cash withdrawal or deposits in ATMs, for identity verification in government offices etc. We have al ...
Read more

›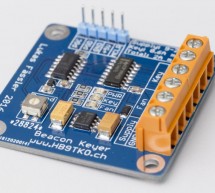 This is likely the first ham radio related project that I document here on this blog. But my very first PIC project was a beacon keyer that I made for my father, HB9BBD. That was was in 2013. A beacon keyer is a great project to get started with microcontrollers since it's not much more than a fancy way of blinking an LED. At that time I didn't even use Eagle yet and so the layouts were based on a software ...
Read more

›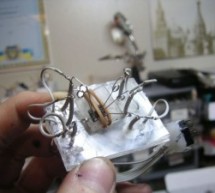 This is a homemade adapter I made for programming SOIC/QFN size microchips that I use in my micro airplanes (http://maxoffsky.com/tech-blog/rc-micro-spitfire-airplane-build-log/). I had trouble connecting the chips any other way so I made my own universal adapter. This could also be used to do In-Circuit programming without removing the chip from the PCB. If you want an adapter to connect and fit any size m ...
Read more

›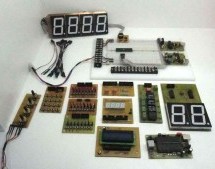 After testing many systems development for PIC and AVR microcontrollers, none satisfy me. So I created this system with breadboard that has satisfied me. Step 1: More space free In this development system, I put two protoboards turned 180 degrees from each other. The space that is left to just enough space to insert a 40-pin microcontroller. But I'm planning to create a version with movables protoboards  to ...
Read more

›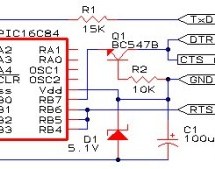 This programmer works only with PIC16F84 but it's great because it never causes errors and works with almost all computers,unlike some other homemade programmers. Step 1: Step one : Materials For this programmer you won't need many materials.In fact , you will find all you need in your local electronics shop ;) So here's what materials you will need: -IC Board -RS232(Serial) FEMALE connector -BC547B or 2N39 ...
Read more

›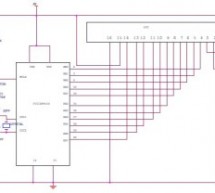 In this session we will see how to interface 16×2 LCD to PIC18F4550 microcontroller which is of family PIC18F. You can get information of 16×2 LCD in the session How to Interface 16X2 LCD with 8051 Microcontroller Features of PIC18F4550: PIC18F4550 belongs to the PIC18F family; PIC18F4550 is an 8bit microcontroller and uses RISC architecture. PIC18F4550 has 40 pins in PDIP (dual in line package) and 44 pin ...
Read more

›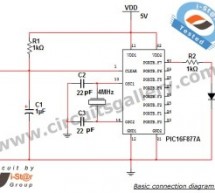 What is a pic microcontroller? The PIC microcontroller is a low cost 'computers on a chip' manufactured by Microchip. They allow electronic designers and hobbyists impart intelligence and logic to a single chip for special purpose applications and products. The PIC microcontroller programming is done using the popular software 'Mikro C'. This powerful yet easy to program into a 40-pin package is upwards com ...
Read more

›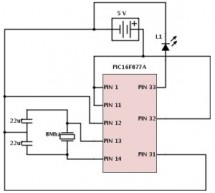 I have just begun in the world of micro-controllers, and the first micro-controller. I chose to work with was the PIC from Microchip. The PIC I am using is the PIC16F877A. I am using MPLAP IDE and HI-TECH C. I am trying to make an extremely simple program that turns on an LED. This is the code I am using: #include<htc.h> #define _XTAL_FREQ 8000000 __CONFIG(UNPROTECT & PWRTDIS & WDTDIS & HS ...
Read more

›
intro, first steps, tips, links, etc. (C) 2002 .. 2005 Wouter van Ooijen ([email protected]) Last change made at 2005 AUG 18. The latest version of this document can be found at http://www.voti.nl/swp. Unaltered duplication is allowed. Translations require approval of the author, which will most likely be granted if the quality of the translation is adequate. This is not a fool's guide: fools are much more foo ...
Read more

›
This post provides the solution for using the PIC controller UART interface (e-g to connect PIC controller with PC using serial adapter). Complete code and simulation can be downloaded from the 'Downloads' section at the bottom of this post. The following figure shows the result of simulation of PIC UART in Proteus7.6. In the main function UART is intialized by calling the function InitUART (defined in the ...
Read more

›