Ethernet has traditionally been a quite complex interface. All Ethernet chips until today had 100 pins or more, where difficult to find in small quantities and difficult to use from a small microcontroller with little memory. Microchip has changed the world with their new ENC28J60 Ethernet chip! The ENC28J60 is a small chip with 28 pins only and has a SPI interface which is easy to use from any microcontrol ...
Read more

›
This project can steer 10 different things wireless with the use of a normal TV-remote-control with the RC5 protocol, from manufacters like Philips, Grundig and Marantz. If the Proton PIC Basic compiler is available, then you can ofcourse change the number of channels. Use it as follows: When 'TV' mode is selected on your remote-control, you can with the buttons 0 through 9 on it, steer 10 outputs on and of ...
Read more

›
WEBSD This is a development board for the PIC24F series of microchip, with: USB ( plug it to any computer) Ethernet ( plug it to the internet) SD card ( save and read all data you will need) I developed this thing as a learning platform, it worked ( still is). So if you always want to go a step further in microcontrollers as i want, it's a nice way of doing it . The problem i had is that microchip examples ...
Read more

›
The basic circuit below will work with any PIC18F2xJ50 microcontroller. You just have to upload the appropriate firmware. Go to Downloads section to find firmware hex files for the microcontroller and the resonator you would like to use. PIC18F24J50 firmware v2.6.3 - all subversions.zip contain the following general use subversions: 4 MHz, 8 MHz, 12 MHz, 16 MHz and 20 MHz, and the following subversions for ...
Read more

›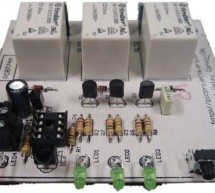 Description This project is a 3 channel infrared (IR) remote controlled relay driver.  It works with 12-bit SIRC IR signals as used by Sony remote controls. The controller also features the ability for the user to 'program' the commands it will respond to using  the IR remote control.   Each of the three relay channels can also be individually configured for either toggle or momentary switch action. Althoug ...
Read more

›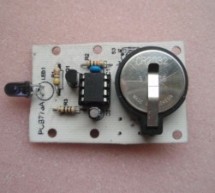 Description This project is a 3 button mini IR remote control which transmits 12-bit SIRC IR signals as used by Sony remote controls.  It has been designed to work with both the 2-channel relay driver board  and 3-channel relay driver board projects also on this website. The board uses Microchip's low cost PIC10F200 microcontroller along with a handful of easy to find  components making it very cheap to con ...
Read more

›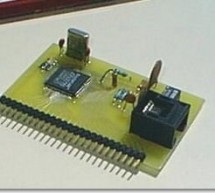 Embedded ethernet enables microcontroller based projects to send and receive packets over the network. The board shown on the left is actual size and incorporates all the circuitry needed to enable 10BaseT communications. The board is designed to minimize the pin count needed to interface with microcontrollers. An 8 bit data bus, 4 bit address bus, and three control signals (15 signals) with an optional int ...
Read more

›
GSM based Control System by pic microcontroller implements the emerging applications of the GSM Technology. Using GSM networks, a control system has been proposed that will act as an embedded system which can monitor and control appliances and other devices locally using built-in input and output peripherals. Remotely the system allows the user to effectively monitor and control the house Appliances and equ ...
Read more

›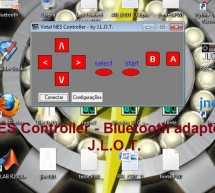 How to adapt a NES clone controller to bluetooth I bought a Wireless Bluetooth RS232 TTL Transceiver Module from DX (SKU 80711) and wonder what i can do with it. So, I'm realy nostalgic and decided to build a NES clone crontoller to bluetooth adapter, because, by this way I could play again that amazing games that we all remenber. A important thing I need to highlight is that in my city is so dificult to fi ...
Read more

›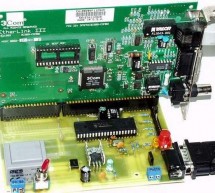 The PIC16F877 microcontroller, prepared with activated an old ISA ethernet (3com eherl Link) Used guess PIC internet connection with an application I'm not sure circuit aim could not understand the pic programming dealing with people who can solve resource asebbely asm PCBs (eagle) control program and so on. most likely reason for not publishing files to the work of people who are interested will work. ISA ...
Read more

›