For my electrical engineering senior design project, I decided on designing a analog music synthesizer with MIDI control. I have to admit, this was what I wanted to do since high school and was my ultimate goal as a musician, artist, DIY person, and engineer. This project, in the end, will combine all of my knowledge into one nice little package that I get to show off to friends, family, and faculty and is ...
Read more

›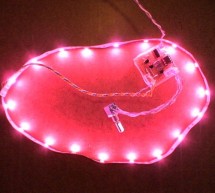 There may be a lot of RGB LED Drivers out there, but this one is a bit different, its versatile, small, cheap, and is simple to control. A potentiometer with built in switch is used for the controls. A quick press, switches between color cycling and solid color select modes. Pressing in on the dial and holding, toggles an Intensity control, to brighten or dim the LED. Pressing in and holding again, exits In ...
Read more

›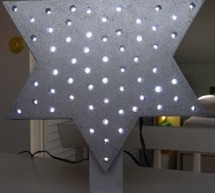 In this instructable I am going to show you how to build a Star with 64 LEDs. The Star operates by itself but the operation mode can be changed when connecting it to a computer via a serial (RS232) interface. After reconfiguring the Star via the computer, the Star will use the new operating mode as the new default. The Star can of course be used during the Christmas period but it can also be used as a night ...
Read more

›
WARNING: Some people try to build this with an optocoupler with zerocrossing coz 'that is better' right? Some are even told in electronics shops it is better to use such an optocoupler. WRONG. This will only work with a random fire optocoupler: NOT igniting at zerocrossing is the principle of this dimmer. Switching an AC load with an Arduino is rather simpel: either a mechanical relay or a solid state relay ...
Read more

›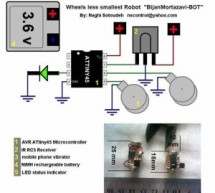 Vibrobots (and bristlebots) are simple robots that use a tiny pager / cellphone vibrator motor (with an eccentric weight) to randomly bounce around -- they are the subject of many Maker / DIY projects as well as some well-known commercial toys (such as the $7.00 Hexbug Nano).  Naghi Sotoudeh, a Hizook reader from Iran, contacted us about his latest project: a remote controlled micro-scale vibrobot (measurin ...
Read more

›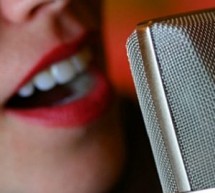 The Project aims at controlling a wheelchair for handicaps by means of human voice. The speech recognition system is a useful way of implementation and is easy to use programmable speech recognition circuit. Programmable, in the sense that user can train the words (or vocal utterances) he needs the circuit to recognize. This board allows the user to experiment with many facets of speech recognition technolo ...
Read more

›
You might have come across several applications where we need to control a specific device based on analog parameter. This Embedded system works in a similar concept where we are about to control the speed of a DC motor using based on the external temperature. The rise in temperature will result in increase in speed of the motor and vice versa. These type of Temperature controlled fan systems can generally ...
Read more

›