IoTeX has launched a campaign on crowdsupply for Pebble Tracker, which is a secure, battery-operated, cellular-IoT prototyping platform designed for blockchain-based applications. Pebble Tracker is based on Nordic Semiconductor's latest low-power nRF9160 System-in-Package (SiP), and it is powered by open-source firmware. Pebble Tracker enables GPS support, a host of rich sensors, NB-IoT/LTE-M connectivity, and advanced security features which makes it suitable for sophisticated logistical applications where trust is necessary.  The cellular IoT prototyping platform as well as the IoTeX blockchain enables developers to design and build innovative, decentralized IoT solutions that go well beyond conventional asset tracking.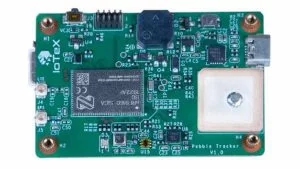 Pebble Tracker utilizes open-source firmware and functions properly with developer-friendly tools, with the addition of ThingsBoard, which is an open-source IoT platform for device management, data processing, and data visualization. Pebble Tracker consists of an expansive array of sensors — internal/external GPS, climate (temperature, humidity, air pressure, air quality), motion (acceleration, angular velocity), and light intensity. They enable trustworthy insights into an asset's environment and movement. Pebble Tracker is verifiable and tamper-proof right from the source. It is transmittable in real-time to the IoTex blockchain of MQTT endpoint of your choice. These are possible because data is cryptographically signed. Pebble Tracker also enables you to convert real-world phenomena into verifiable digital data. By this, you can focus on building innovative asset tracking, remote monitoring, and automation solutions.
Pebble Tracker Nordic Semiconductor's nRF9160 enables advanced processing and security accessible for low-power, cellular-IoT use cases. The nRF9160 SiP uses an ARM Cortex-M33 dedicated application processor, a multimode LTE-M/NB-IoT modem, and power management abilities to provide high performance, energy efficiency, and unparalleled security.
Read more: NRF91 BASED CELLULAR-IOT TRACKER FOR YOUR BLOCKCHAIN-BASED APPLICATIONS