Minimises test bench space for measuring voltage, current and power to ensure constant energy output and handling sudden electrical changes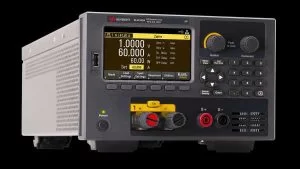 To offer a compact bench form factor with a built-in data logger for delivering immediate, real-time decision insights and minimising the need for additional instruments with an accurate system that measures voltage, current and calculates power, the new EL30000 series bench DC electronic load has been launched.
An electronic load is an instrument that tests sources by presenting various resistances and measuring the response. Device manufacturers and design engineers use electronic loads to test power devices such as power supplies, batteries, battery modules, solar panels, fuel cells, LED drivers and power converters.
The EL30000 enables customers to test a wide range of power sources, perform both static and dynamic tests to ensure devices can output constant energy, as well as handle a sudden increase or decrease in demand. Multiple ranges allow accurate measurements for small and large devices from zero to 150V. A built-in measurement system eliminates the need for an external digital multimeter, shunts and associated wiring.
Read more: EL30000 SERIES BENCH DC ELECTRONIC LOADS