USB LCD Controller
This project is a USB Generic Human Interface Device (HID) device based on a PIC microcontroller. It is a USB interface for alphanumeric LCD display where the user as desired can program it. USB interface is implemented by using PIC18F2550 microcontroller ideal for low power (nanoWatt) and connectivity applications that benefit from the availability of three serial ports: FS-USB (12 Mbit/s), I2C and SPI (up to 10Mbit/s) and an asynchronous (LIN capable) serial port (EUSART).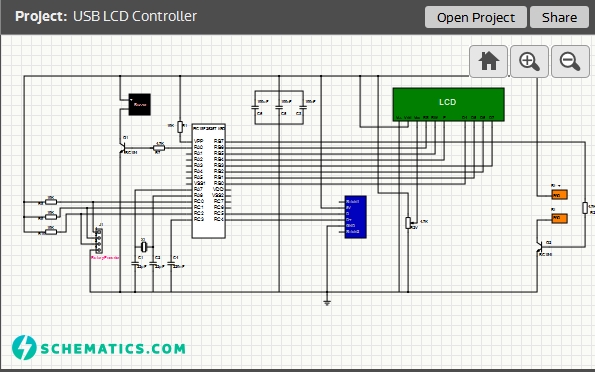 Large amounts of RAM memory for buffering and enhanced FLASH program memory make it ideal for embedded control and monitoring applications that require periodic connection with a (legacy free) personal computer via USB for data upload/download and/or firmware updates.
The hardware design is extremely simple. It can be build using the supplied PCB artwork or on a stripboard or breadboard. The circuit consists of a PIC18F2550 with a 20Mhz resonator and the required components for the LCD screen and the USB. The display is connected to the controller board using single strand wire. In addition, the contrast control potentiometer is placed underneath the board to allow easy adjustment after the LCD screen has been mounted.
For more detail: USB LCD Controller
Project Ratings:
Related posts