With ultra-low quiescent current of 250 nA, the MCP1811 enables battery life which is four-times longer than conventional ultra-low Iq LDO regulators. Compact packages down to 1 x 1 mm also help the MCP1811 to minimise board space.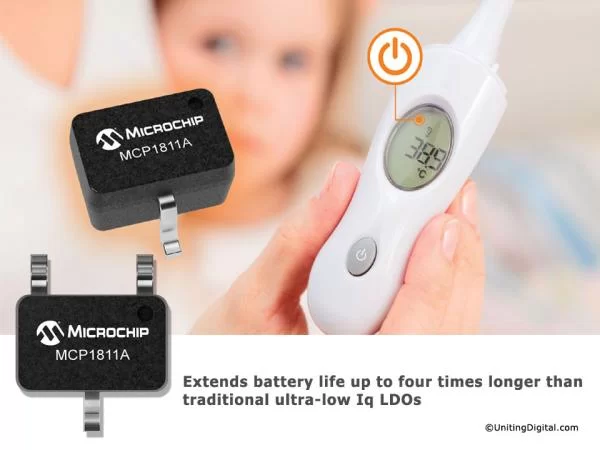 The MCP1811/12 devices are 150 mA (MCP1811) and 300 mA (MCP1812) low dropout (LDO) linear regulators that provide high-current and low-output voltages while maintaining an ultra-low 250 nA of quiescent current during device operation. In addition, the MCP1811B/12B can be shut down for 5 nA (typical) supply current draw.
The MCP1811/12 family comes in nine standard fixed output-voltage versions: 1V, 1.2V, 1.8V, 2.0V, 2.5V, 2.8V, 3.0V, 3.3V, and 4.0V. The 150/300 mA output current capability, combined with the low output-voltage capability, make the MCP1811/12 device family a good choice for new ultra-long-life LDO applications that have high-current demands, but require ultra-low power consumption during sleep periods.
The MCP1811/12 is stable with ceramic output capacitors that inherently provide lower output noise and reduce the size and cost of the entire regulator solution. Only 1 μF (2.2 μF for MCP1812) of output capacitance is needed to assure the stability of the system with a low noise output.
Block Diagram
Additional Features
Ultra-Low Quiescent Current: 250 nA (typical)
Ultra-Low Shutdown Supply Current: 10 nA typ (MCP1811A) and 5 nA typ (MCP1811B)
Input Voltage Range: 1.8V to 5.5V
Standard Output Voltages: 1.0V, 1.2V, 1.8V, 2.0V, 2.5V, 2.8V, 3.0V, 3.3V and 4.0V
Low Dropout Voltage: 400 mV (typical) w/ Small Variation Over Load Range
Stable with Ceramic Output Capacitor: 1.0 uF
Overcurrent Protection w/ Foldback
Output Discharge (MCP1811A)
Available in 3 and 5 lead SOT-23, 3 and 5 lead SC70, 4 lead 1x1mm UDFN
Read more: ULTRA-LOW QUIESCENT LDO EXTENDS BATTERY LIFE FOR SENSORS AND PORTABLE DESIGNS