For a few years now, earbuds have been part of pop culture. It is slowly phasing out the earpiece and headphones. Most people make use of them because of the troubles associated with wired ear accessories, while others use it as a cool fashion accessory. Regardless of the reason you use it, the earbuds have become an integral part of our day to day electronic accessory. However, there are many earbuds in the market right now. We have Apple's AirPods which is the most popular of all, but not necessarily the best wireless earbuds available, even though they've topped the list of real wireless earbuds for the past few years in terms of sales.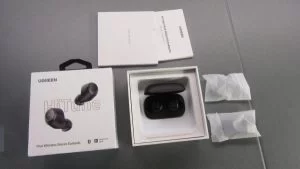 Highlights
Bluetooth 5.0 Stable Connection
Qualcomm aptX Audio Codec
Noise Cancellation
Ergonomics Design
We have seen many competitors that offer better sound, battery life, and performance than the Apple AirPods, making the market wireless earbuds market quite competitive. We have a host of earbuds to choose from, instead of just limiting Ourselves to brands like Apple, Samsung, etc. What I look for in every earbud I use is optimal performance, which has an ergonomic design, and it feels comfortable in my ears. They need to fit right, with a tight earbud seal. It is always frustrating if you can't get your earbuds to fit your years properly, and you get a disappointing feeling, and you feel like you have been ripped off.
One earbud that has really caught my attention recently is from a Chinese based company called the UGREEN HiTune Wireless Earbuds. It is a Bluetooth earbud with Microphone HiFi Stereo In-Ear Headphones, cVc 8.0 Noise Cancelling, Touch Control, 27h Playtime, USB-C Quick Charge, Waterproof, aptX TWS, and suitable for Sports. The first thing that attracted me to this earbud is its design. Generally, I prefer earbuds that do not have extensions going down your ear lobes, because most times they can easily fall off your ears if you mistakenly hit it or it gets cut up on something. However, the UGREEN HiTune Wireless Earbuds fits completely into your ears, without any part protruding out, making it sit perfectly in your ears. Its compact size and ergonomic design help the earbuds fit perfectly in your ears. It is also lightweight and offers 3 sizes of tips, which makes it comfortable for users.
Read more: UGREEN HITUNE EARBUDS OFFERS QUALITY SOUND FOR JUST $39.99