TI claims zero-drift op amp first
Description
The OPA2188 operational amplifier uses TI proprietary auto-zeroing techniques to provide low offset voltage (25 µV, max), and near zero-drift over time and temperature. This miniature, high-precision, low quiescent current amplifier offers high input impedance and rail-to-rail output swing within 15 mV of the rails. The input common-mode range includes the negative rail. Either single or dual supplies can be used in the range of +4.0 V to +36 V (±2 V to ±18 V).
The OPA2188 is available in MSOP-8 and SO-8 packages. The device is specified for operation from –40°C to +105°C.
Features
Low Offset Voltage: 25 µV (max)
Zero-Drift: 0.03 µV/°C
Low Noise: 8.8 nV/√Hz
0.1-Hz to 10-Hz Noise: 0.25 µVPP
Excellent DC Precision:
PSRR: 142 dB
CMRR: 146 dB
Open-Loop Gain: 136 dB
Gain Bandwidth: 2 MHz
Quiescent Current: 475 µA (max)
Wide Supply Range: ±2 V to ±18 V
Rail-to-Rail Output:
Input Includes Negative Rail
RFI Filtered Inputs
MicroSIZE Packages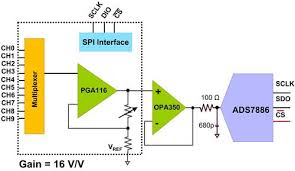 Texas Instruments claims to have the industry's first zero-drift, 36V operational amplifier.
Zero-drift architecture is specified as 0.03µV/degree C.
"The OPA2188 combines a proprietary zero-drift technology with our precision 36V processes, providing analog designers with a clean and simple way to solve the challenge of taking precision-level measurements in a high-voltage environment," said Steve Anderson, senior v-p of TI's high performance analogue business.
"Our design teams have achieved leading performance levels for ultra-low noise, EMI and RFI input filtering, and low power consumption," said Anderson.
The op amps are expected to be used in applications like control and automation, and higher accuracy in portable medical designs.
Initial offset voltage is 25µV.
The device has a 2MHz bandwidth and quiescent state power consumption of 475µA. Low noise is specifires as 8.8nV/rtHz.
Input common mode range extending from negative rail to within 1.5V of the positive rail saves additional circuitry and enables 5V, single-supply operation.
There is a reference design and SPICE model in TINA-TI 9.1, a SPICE-based analogue simulation program, which can be downloaded.
For more read: TI claims zero-drift op amp first
Project Ratings:
Related posts