AD8307 USB 0-500MHz RF Power Meter Component List: 1x PIC18F2550 Programmed Microcontroller 1x AD8307 RF Power Meter IC 1x RF Power Meter Probe PCB 1x USB IO Board PCB 1x USB Type B Connector 1x 20MHz Crystal Resonator 1x 470K Resistor (yellow purple yellow gold) 2x 10K Resistor (brown black orange gold) 2x 100 Resistor (brown black brown gold) 1x 470nF Ceramic Capacitor 5x 100nF Ceramic Capacitor   Technic ...
Read more

›
 USB IO Board Component List: 1x PIC18F2455 / PIC18F2550 Programmed Microcontroller (MCU) 1x USB Type B Connector 1x 20MHz Crystal Resonator 2x 10K Resistor (brown black orange gold) 1x 470 Resistor (yellow purple brown gold) 1x 470nF Ceramic Capacitor 1x 100nF Ceramic Capacitor   Technical Specifications: Voltage Supply: 5V (USB powered) Current Consumption: 5mA I/O PINs: 16 About PIC18F2455 / PIC18F2550 U ...
Read more

›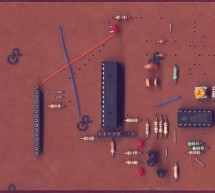 The ESR meter is perfect for any electronics repair technicians, engineers or hobbyist. This handy meter measures electrolytic capacitor equivalent series resistance (ESR) in the circuit. ESR is a very important characteristic of capacitors greater than 1 microfarad. This meter makes measurements which are often impossible to check with standard digital capacitance meters. Working: The capacitance of the De ...
Read more

›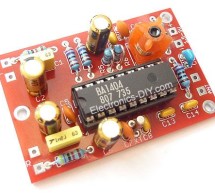 BA1404 Stereo FM Transmitter Components: BA1404 IC 38KHz Crystal L1 - 3.5 Turns Variable Coil 1x PCB 1x 38KHz Crystal Oscillator 1x DIP-18 IC Socket 1x 3.5T Variable Precision RF Coil 1x 10uH Inductor 4x 10uF/50V Gold Audio Capacitors 4x 1nF Ceramic Capacitors 2x 1nF Mylar Capacitors 1x 220pF Ceramic Capacitor 5x 10pF Ceramic Capacitors 2x 47K 1% Metal Film Resistors 2x 27K 1% Metal Film Resistors 1x 150K 1 ...
Read more

›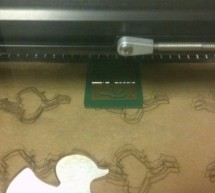 Also known as the "Sketch as Fuck Lamp Dimmer" per my friend Eric, the design originating from this application note in general has the usual lamp dimmer topology: a zero detector, a timer, and a triac. These three components implement phase cutting, specifically the triac performs phase cutting on AC current from mains supplied to a load. The first two components, the zero detector and timer, are both impl ...
Read more

›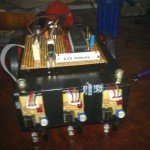 Line Follower Robots are the most common type of robots that are built by hobbyist and student interested in robotics and embedded systems. The reason for the popularity of the Line Follower robot is the fact that is simple to build and easy to understand the logic behind it. This post will give you working level knowledge on building and programming line follower robots from scratch. A robot is a combinati ...
Read more

›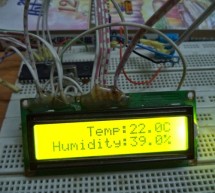 After interfacing the DHT11 with Arduino uno board at the following post: ARDUINO Humidity & Temperature Measurement Using DHT11 Sensor Now we are going to see how to interface this sensor with microchip pic16f877a. There are some descriptions of how this sensor work  in the above link A brief description of the code: The code is written using MikroC compiler.  First we must send a start signal to the s ...
Read more

›
Description This project shows how to use a SD-Card with FAT16 file system. It is based on the example MMC/SD-Card driver (mmcsd.c) and FAT file system driver (fat.c) delivered with the CCS C compiler. Unfortunately, the example didn't work properly for me. So I searched the web and found some required changes to make it work. All modifications are described in the following article. Hardware SD-cards can b ...
Read more

›