The good life, they say, sometimes does not cost a fortune, with the new RD6006 from Ruideng, you can precisely program the amount of power needed for your project via USB / WiFi communication or via the embedded control panel.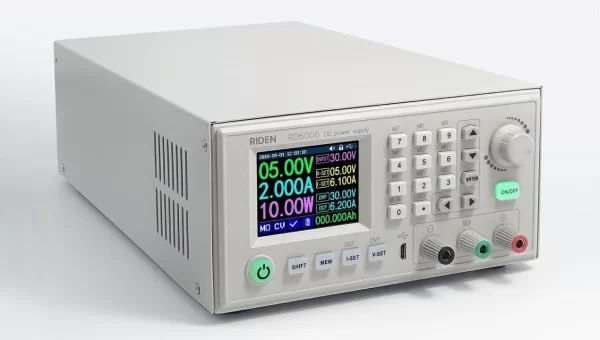 The RD6006 digital control Switching Adjustable power supply is a programmable, DIY Flavoured, bench PSU that is safe, convenient to use, and comes preloaded with different features for high-level performance. We were lucky enough to get our hands on one of the units from Banggood.com, so we share our experience with you. RD6006 has two versions: RD6006 and  RD6006-W, RD6006-W have WIFI board, RD6006 doesn't. First, let's take a look at some of its impressive features as highlighted below.
Some highlight features of the PSU include:
2.4-inch color LCD display
Digital Keypad + Encoder Potentiometer combination adjustment
Back display that includes a WiFi communication board and a Clock Battery Socket
USB interface
Special interface for charging a battery
PC software and Phone Apps
Firmware upgrade Support
A power button that indicates with a blinking green light when the RD6006 is connected to the power source.
Temperature range: -10 0C to 40 0C
To show the technical performance, the specifications are presented below:
What Makes The RD6006 Special
1. Full Main Page Display
The main page of the RD6006 digital power control switch displays more information than previous power supply models. The main page is set by default to a traditional display style which shows the voltage, current, and power values in large fonts, but users also get the option of switching to the view of different modes like the Curve style mode which shows the voltage, current, and power ratings as curves on one page. However, operations in the curve display mode are the same as in the traditional display. You can start, pause, and achieve ordinate scaling of the curve using the digital encoder.
Read more: RD6006 DIGITAL CONTROL SWITCH ADJUSTABLE POWER SUPPLY STARTS FROM JUST $57