Oktopod Studio is a development platform for mechatronics, robotics and automation, which enables creating and controlling low voltage electronic devices, models and home applications /in an extremely simple way/.
Oktopod Studio enables students to meet the practical problems of a technical nature and to solve them. If students through simple technical systems understand the working principle of the sensor, LED lighting, actuators (motors), later they will be clear and principle of operation of complex technical systems. Here's the core of the Oktopod Studio, which introduces students to the world of Robotics and Mechatronics.
Hardware:
Oktopod_Board presents a Programmable Logic Controller (PLC), which features plug and play inputs and outputs for connecting low voltage electronic devices, like: LED lights, DC & servo motors, electromagnets, switches, photo, temperature and magnetic sensors, and so on.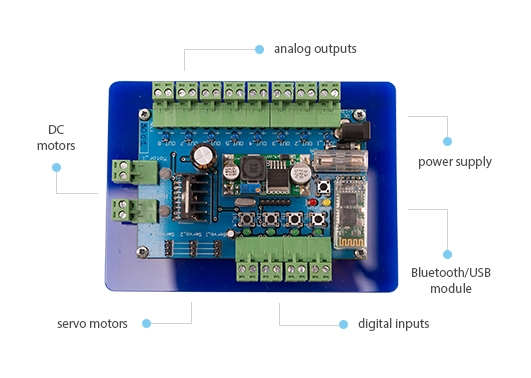 Tecnical characteristics:  
8x Powerful analog output
2x DC motor driver
3x Servo motor driver
4x Digital inputs (short circuit and over-voltage protection)
ATmega16 microcontroller
USB/Bluetooth communication module
Power supply input 6-12 V (reverse polarity protection)
On board 3 A fuse
Software:
Oktopod_Control is an application for computers and mobile phones, which allows manual control and programming the board (currently for Windows and Android).
Manual mode: – the software can be used as a wireless remote control for the board, like a virtual dashboard! In this case the desired actions are executed in real time, by moving the sliders and pressing the buttons.
Programming: – enabled by unique, simplified creating "WishLists". This is a unique, simplified way of programming. When the board is connected, you can set the desired output actions and to add them to your WishList. When all of the actions are added to your list, just DOWNLOAD or click PLAY, and watch what happens!
Open Source 
All the design files and source codes will be made available on our website www.oktopodstudio.com/download/! So you will be able to develop your own applications, or customize the recent ones.
We are excited to see your own projects built with hacking Oktopd Studio!
Mission and Vision  
Thinking and creating are one of the most important things in our life. By constructing robotic applications you can express yourself in a very unique and creative way. Expands the horizons!
Robotics connects  different fields and different people: artists with scientists, hobbyists with professionals, young with experienced… Our hope is to build a creative community, where people can share their projects and ideas, to discuss and to help each other.
For more detail: Oktopod Dev Kit for Your Robo-ideas!