HARTING has developed a component carrier that can be used directly with electronic components eliminating manual assembly and replacing flexible PCBs. Increasing precision and reducing assembly costs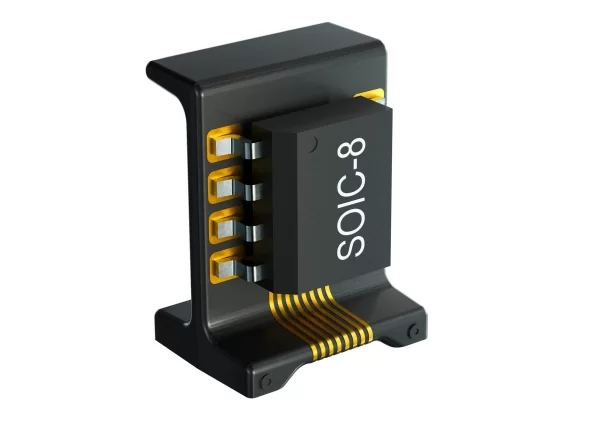 Component carriers are equipped with measuring sensors for detecting position
The component carrier serves as a connecting element between a printed circuit board (PCB) and electronic components (such as LEDs, ICs, photo–diodes or sensors).
The measuring sensors of a scanning head for position detection, for example on a linear slide with guide rails, are often mounted onto flex PCBs. As magnetic, optical or inductive systems, they record the exact position of the slide. To do this the sensors must be positioned exactly at a 90 degree angle. The capability to mount these as precisely as possible improves the accuracy of the measurement results. A second sensor is often installed in the measuring head for redundancy. In addition, the status of the evaluation electronics is displayed using LEDs; these are mounted onto a flex PCB.
With HARTING's component carrier the flexible PCB can be replaced completely. The injection-moulded plastic body already provides very precise 90-degree angles for mounting sensors. The component carrier eliminates the need for time-consuming manual assembly of the flex PCB. In addition, the sensors are positioned more precisely. Another advantage of the component carrier is that the width of the sensor modules can be further reduced to less than 8 mm.
Read more: COMPONENT CARRIERS REPLACE FLEXIBLE PRINTED CIRCUIT BOARDS IN LINEAR MEASURING SYSTEMS