Monitor almost any brand of home security camera from anywhere. Local video storage & AI alerts.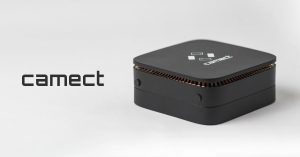 Camect is the only easy, private, smart, and affordable security camera management system that lets you watch what matters most ON YOUR TERMS. Don't be locked in to proprietary cameras—save on camera costs and high monthly fees! Footage is stored locally, FOR YOUR EYES ONLY.
Works with Most IP Cameras
Easy, Secure Access from Anywhere.
AI-Supported Smart Alerts
1TB Expandable Storage
One-Plug Network Setup
Optional Cloud Backup
Camect supports about 24M of total camera resolution (e.g. 12 1080p cameras) of average scene complexity.
As Camect records, it applies video analysis to identify motion, a deep learning AI model to identify what's moving, and your feedback to determine what's interesting to you. This ensures it delivers the exact alerts you're looking for.
Camect gets smarter when users choose to share feedback on videos. Providing video examples helps it learn, making it more accurate over time.
Camect adapts alerts based on advanced algorithms and your direct feedback. No more annoying, unneeded alerts – just incredibly accurate ones.
Camect can detect almost 20 more objects than the next most-advanced option, and we're adding more all the time.
Read more: CAMECT: WORLD'S SMARTEST, MOST PRIVATE CAMERA HUB