Allegro's A31315 robust, fully integrated 3DMAG™ Hall effect magnetic position sensors are designed to support a wide range of non-contact rotary and linear position measurements in automotive, industrial, and consumer applications.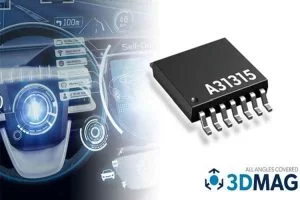 This family of sensors integrates vertical and planar Hall effect elements to detect two out of three magnetic field components (X, Y, and Z). Using configurable signal processing, linearization, and angle calculation allows the A31315 sensors to accurately resolve the absolute rotary (full 360° and short-stroke <360°) or linear position of a moving magnetic target.
These A31315 sensors feature ratiometric analog, PWM, or SENT (SAE J2716) interface options to output the angle between the two factory-selected axes or the field from a single axis. In addition, the SENT interface provides the option to output the field measurement from both channels.
Features
3D Hall effect magnetic sensor for absolute rotary and linear position sensing applications
On-chip angle calculation with configurable signal path and flexibility linearization enable customers to achieve the most stringent accuracy requirements while minimizing end of line programming time

Piecewise-linear and binning modes
Up to 33-point fixed position
Up to 22-point programmable positions
Read more: A31315 3D MAGNETIC POSITION SENSORS