3D TouchPad from Microchip
Microchip Technology have announced a computer peripheral 6" touchpad which it claims is the first able to resolve 2D multi-touch and free-space 3D gestures. To detect gestures up to a distance of 70 mm from the pad surface Microchip have used their MGC3130 single-chip gesture recognition and motion tracking controller released in 2012.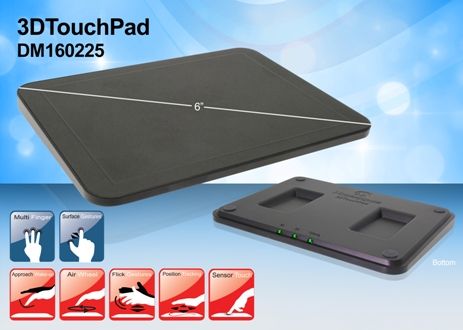 It works on the principle of electrical near-field sensing. The 2D touch functionality is handled by a PIC32-based PCAP controller type MTCH63104. It handles 12 Rx and 16 Tx nodes, which are located in the centre, on the top layer of the TouchPad PCB between the 3D GestIC Rx electrodes. Microchip's MTCH652 line driver is used to provide the necessary Tx drive signal up to 18V.
For more detail: 3D TouchPad from Microchip
Project Ratings:
Related posts