Smartphone microscope as the name implies is basically a microscope which is compatible with a user's smartphone. They mostly made up of a soft pliable lens and uses the smartphone's camera. Smartphone microscopes have been in existence before, they are based on the use of external LEDs and usually get powered from an external source, these attachments have been quite larger and more cumbersome than the phone itself, but a group of Australian researchers has developed a microscope attachment that doesn't require an additional power supply or external light sources which is actually based on 3D printed material alone.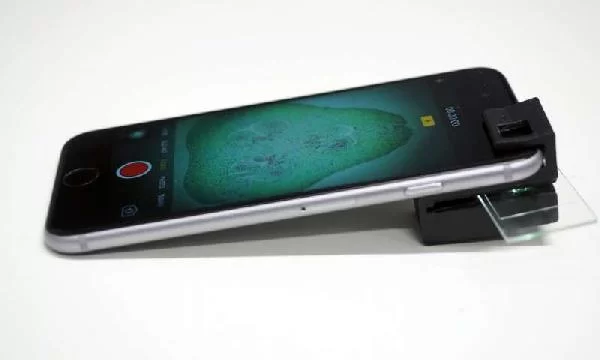 The invention of this microscope will make sure that people unable to afford pre-existing microscopes due to the cost of the external electrical appliances to be added during assembly can now work on their research as long they have a smartphone and the 3D printable microscope. They can examine different samples ranging from plant cells to animal cells. The smartphone microscope's design consists of a 1x magnification imaging system that is created by placing a mobile phone camera lens in front of the mobile phone's internal phone camera module.
The difference between the 3D printable microscope and other smartphone microscopes is the illumination system of the 3D microscope since it has been designed with internal illumination tunnels. The entrance of the tunnel is placed over the camera flash. Light from the camera flash travels through the first tunnel, reflects diffusely off of the end of the tunnel and then travels back into another tunnel that is aligned to the optical axis of the objective lens and camera module.
This 3D printed based microscope has the ability to work in two different modes: the brightfield and darkfield imaging modes respectively. During the bright field mode, the microscope creates diffuse transmission illumination without the aid of an external reflective object behind the sample thereby reducing weight and cost procured upon the addition of an external electrical object. However darkfield imaging is made possible when the ambient light illuminates the sample using the sample' glass slide. The microscope attachment is capable of viewing objects as small as 1/200th of a millimeter, making it significantly more effective than its more predecessors.
Read More: 3D PRINTED CLIP-ON TURNS ANY SMARTPHONE TO A HOUSEHOLD MICROSCOPE.